Harmony University 2018
Frequently Asked Questions
Please feel free to contact the Harmony University team at harmonyu@barbershop.org for any questions not answered below.
What can I expect at Harmony University?

 
Where can I find information about tutition deadlines and prices?
Are there any Local Options for participation?

 

If you are not attending HU all week long but could drive to our campus for a day, we have several options!

Private lessons

Take a private lesson in arranging, conducting, performing, sight singing, and voice from our world class faculty.  You don't have to be a full-time HU student to take advantage of our wonderful teachers…just drive on over to Belmont! 

Saturday Only Pass

Take any of our electives, grab a lunch and dinner, watch the big show, and eat ice cream with all 700 of us!

Show Only Pass

Come watch the big Saturday night show…yes, you can have ice cream too.  

Honor's Chorus

Join our Women's Chorus, under the direction of Mo Field, or our Men's Chorus, under the direction of Kirk Young, Monday – Friday from 2 pm to 4:30.  Get music, tracks, and world class life changing coaching.  This is for our drive in locals who can't take a week off, but want to have a great barbershop experience.  No food, dorm, or other classes are included with this ticket.

Local Quartet Coaching

Are you a local men's or women's quartet that can't be with us for the week, but want to take advantage of our coaches from all over the world?  Look through our list of 60+ coaches and choose the coach for your group!  You will meet from 7 to 9 pm with 1 coach, and have the option of selecting different nights with different coaches.  Once you pay, our HU planners will connect you to your coach. 
Is Harmony University Tuition Tax Deductable?

 

For the vast majority of our barbershop attendees, HU is NOT tax deductible.  If you are a music educator receiving continuing education hours or credits at HU, the answer is  YES.  

If you a music coach/director and are claiming this income on your tax return, and HU is a business expense to further your career, mostly yes.  

Teachers, check in with your school district and tax advisor, as many districts must grant authority to attend HU before you can claim these hours or credits.  

Barbershop directors and coaches, it is less clear in the US tax code.  Read more...HERE  
Are scooter rentals available?

 

We have secured rental for mobility scooters for the week!  The rental company will:
Drop off your scooter at Belmont prior to your arrival
Pick up at your scooter after your departure
They have 15 300 lb capacity scooter for $130  

They have 2 350 lb capacity scooter for $170

We have been given a group discount with no delivery fee, but you must order by phone. Call All Star Medical @ 615-730-9438.  Ask for Scott, and say that you are attending Harmony University Belmont.  Scott will collect all your pertinent information, take a credit card # for the fee's listed above, and have your scooter waiting for you on Sunday of Harmony University.  We request you place your order with All Star Medical before June 1st.  You are welcome to ask in July, but it is unlikely they will have any left.
Are laundry facilities available on campus?

 

You bet!  Every dorm Hall has typical coin operated machines, at the basement level.
What do I need to know about my Harmony University Badge?

 

Your color coded badge is your ticket to your classes, electives, masterclasses, shows, the cafeteria…pretty much everything.  Please wear it all week.  This helps us and Belmont security track who is a student and who is not a student, who is eligible for the cafeteria and who is not. It also gives faculty and fellow students an easy way to use your preferred name.  
I registered for HU, but I need to select my courses. How do I do that?

 

After you've registered through Eventbrite (and have received confirmation via email that you've successfully registered) the site will automatically direct you to our scheduling platform, SCHED. If you would like to revisit the website at any time, you can log into SCHED by visiting: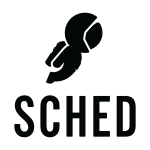 Please note: You must register through our Registration page before you're able to select courses for HU. To view a list of available courses in general, visit our Course Offering Information. 
What information should I know about Airport Arrivals and Departures?

 

ARRIVAL

If you are FLYING into Nashville (BNA), our airport shuttles to Belmont run approximately every 40 minutes on Sunday, July 23rd between 12 pm and 6 pm.  Give yourself a little extra time for delays.  Look for the big HU signs held by our spunky volunteers in matching shirts.  They will meet you at baggage claim, ready to direct you to our chartered vehicles.   If you are significantly later or earlier than noon to 6, you will need to catch an UBER or taxi to Belmont.  Quotes range from $15 for an Uber to $33 for a Taxi.  Please try to avoid midnight arrivals, as our volunteer's manning room check in would like the chance to go to bed.

If you are DRIVING to Belmont, plan to arrive between noon and 5 PM for registration. 

If you are a commuter (not staying in the dorm) you can pick up your materials in Beaman 124.

DEPARTURE

We depart for home on Sunday, July 30th. Because Belmont has a group coming in on Monday, they must turn around hundreds of rooms quickly, so we must depart in the morning!  Everyone needs to be off campus by 9 AM! 

We offer our return shuttle service to the airport from 4 AM – 9 AM.  You may catch a flight anytime you wish, but we must be off campus by 9 AM.   No exceptions. 
Is there any information I should know about the dorm rooms?

 

To get into your building from the outside AND into each hallway of your dorm, you will need your white access card.  It's like a credit card, but you hold it near a card reader and you will be able to open the door.  To get into your dorm room, you will be issued a regular door key. Belmont will begin changing out locks starting at NOON on the Sunday we leave.  If you drive/fly away with your access card and key, they are going to charge you, even if you mail it back.   $125.  Sorry.

Your dorm room is for two people.  You will each have a bed, bed sheets, a light blanket, a wash cloth and ridiculously small bath towel (with fresh sheets and towels mid-week), a dresser, and a closet.  We recommend you bring the items in the packing list in our Frequently Asked Questions document. 

Your room has another door that opens into your shared bathroom.  The bathroom has a shower with curtain, toilet stall with a door, towel hooks, and a wide counter top with two sinks. 

Here is the tricky part:  you can lock the OTHER dorm room's door for your privacy when you are using the bathroom, but you must remember to unlock their door when you leave.  In other words, you can't lock people in the bathroom (as a college prank), but you CAN lock out the other room… the bathroom they just might want to use at some point.  Since 4 people are sharing one central bathroom, you should have a quick chat about your plan for who wants a shower at what time, if you want to leave items on the counter or store toiletries in your room, and if you are a sleepwalker.  That kind of conversation!

This dorm design means that if the bathroom door is unlocked, both rooms have access to the other room.  While we have not had issues with security, we do want you to know this ahead of time. 

Because of the high temperature of Nashville, all dorm rooms are air conditioned.  This tends to dry the air, and people suddenly have vocal problems with this dryness in the room.  Drink a lot of water, and you will be fine.  All rooms are ADA compliant, and elevators and stairs are available to each floor of all dorms.

Belmont dorm security is tight.  They monitor every public space with cameras and 24-hour security staff.   We will all be very safe, but we also are being watched pretty carefully.

Uncomfortable conversations:
Do not sneak a 3rd person to sleep over in a 2 person room. It makes the people sharing your central bathroom uncomfortable, it disrespects your roommate, and I'll have the displeasure of removing you and your unpaid guest from campus.  It happens.
If your roommate or people on the other side of the bathroom are ruining your HU experience, talk to us right away. In a school of almost 700 people, not everyone will get along, and we can find a solution, and we don't want you to endure a bad fit.  Talk to us right away and let us help you.
 We will assign you to a room by
your request (if you made a roommate request)
gender
quartet or chorus
similar age
We will have free WIFI available in your room.

Elevators and stairs are available to each floor of all dorms.

Belmont dorm security is tight. They monitor every public space with cameras and 24-hour security staff.   We will all be very safe, but we also are being watched pretty carefully.  
Are there any special rules I should know about?

No alcohol is allowed on campus, regardless of age.  

We removed some adults who violated this rule last year and banned 2 more from returning. This is not a Barbershop Harmony Society policy but is a condition of our using the Belmont campus. We must respect Belmont's request and will back them up 100% of the time, even for faculty and BHS employees.  No alcohol on campus.  Instead, walk 300 feet across campus and enjoy 1 of 3 bars located right there!

Belmont ALSO requests that you not bring
skateboards, roller blades, those weird hover/board thingies.
tobacco, e-cigarettes, or any illicit drug.
No unregistered room guests

Just the students who have paid to be with us please.

No unregistered students

Please pay for this event.  We make this very affordable and have removed people from our campus for this each year.  

Fragrance sensitivity

We have registered students that have fragrance sensitivity.  This is tricky because like second-hand smoke, the person breathing did not ask to inhale this substance. To be mindful of all our attendees, we request that all participants refrain from wearing perfume, cologne, and other fragrances, and use unscented personal care products in order to promote a fragrance-free environment at Harmony University.

We don't want to out lawyer anyone about this…just know that fragrance sensitivity is a real thing.  Use deodorant (please) but skip the Hai Karate or Chanel No. 5. 
What information should I know about keys?

Because we are on a modern college campus, your room key has two parts.   The first key is an electronic card that you hold in front of a reader to gain access to your dorm building.  It's kind of a fat credit card.  Then, attached to this card is a typical metal key.  Belmont changes out locks quickly for keys not returned by our departure day on Sunday, and they charge $100 for each key set.   Eight people were late last year, but BHS was already charged $800, and they all paid us back… but we were sad. 

We will charge you $100 for the white magnetic card and $25 for keys not returned at checkout on Sunday.  Yes, if you mail them on Monday morning, we are still charged this fee, because they are changing out locks for the next group coming in Monday morning. 
What will we do every day?
What should I pack or bring to Harmony University?
comfortable, casual clothes for 7 days in a very warm, humid place
comfortable walking/standing shoes (especially performing groups)
sun glasses
toiletries
bar soap
clothes hangers
shampoo
1 or 2 towels (Belmont provides very, very, VERY small towels… think dish towels)
If you are in a performing group, bring your uniform (Friday or Saturday)
pen/pencils
printed or electronic versions of our General Session Music (5 charts)
practice with our provided learning tracks (available for download) of our general session music.
look over the materials sent to you by your instructors (they also have your email, and will be checking in with you with materials needed for your class).
If you are under 18, you will need to have a copy of your participation form and liability/medical release form .
Optional Items to Bring:
bug spray (we have mosquitos)
sun block (it's sunny here… don't burn!)
laptop or tablet (especially for arrangers)
pitch pipe (or download to your phone for free)
music manuscript paper (we will sell on site as well)
smart phone (use our Belmont app) 
What should I expect on check in day?

Sunday, July 23rd is the big day!  The charter bus will drop you off in the Baskin roundabout at Belmont University.  When you get off the bus, you will be looking directly at the Patton and Potter dorms, directly in front of you.  If you are in Kenedy, you will have a short walk to your dorm, right past the Cafeteria.  Go directly to your dorm.  If you don't remember or know your dorm, look for one of our volunteers, and we can pull your name from our master list to get you on your way to home sweet home for the next 7 days.

The cafeteria will now be open for extended hours to help with our different arrival times.   You now have a chance to eat from Noon to 6 PM.  They are treating this service as one singular meal, so will NOT change out food.  You are welcome to eat both in the early afternoon and evening, but they are not changing food choices.

If you are a commuter, park in the Curb event center, but whatever you do:  DON'T BACK INTO YOUR SPOT.  That's when they ticket you. Then go to Beaman 124 (HU office).  We will have your registration materials waiting for you HERE! Our volunteers and BHS staff will hand you your registration materials plus a water bottle.

Then, check in with the student staff at Belmont for your room keys, go to your room and drop off your luggage, maybe grab a bite in the cafeteria (noon to 6), attend our opening session at 8 PM Sunday night, Massey Performing Arts Center, and start off HU right!

Scooters will be waiting in your 1st-floor dorms with your name on it.  Pretty slick, huh?

If anything is wrong (You don't have a room, you need help with your schedule, you don't have your 4 t-shirts you ordered, you are missing your name tag…) we will have our HU office in Beaman 124, ready to help you.  

What should I know about Belmont Food Service?

Our 1,000 seat cafeteria is state of the art, and geared towards the needs of our people!  We have received a few special requests from students, and yes, Belmont is set up to handle just about any request.  They offer a myriad of traditional choices for every meal that do not come in contact with nuts, and also offer these choices:
Meatless options
Allergy free options
Gluten free options
If you have a request that may not be on our radar, shoot us an email, and we can connect you to Belmont food services.  They are very accommodating and very responsive to any dietary needs. 

What if I arrive late, after 8 PM on Sunday?

If you show up to Belmont after 8 PM to midnight, go to your dorm.  We will collect unclaimed registration information from your dorm and store it in our office for you to pick up in the morning.  If you arrive between 8 pm and 9:30 pm, all of HU will be in the Massey Performing Arts Center.  You could join us, be a part of the fun, then walk back to registration in Beaman AFTER the first session.  You may be too tired from traveling and just want to get into your dorm… that's OK too.

If you arrive after midnight, we will post a telephone number on the front of all dorms to this building direct you to campus security.  They will help contact us, and we will get you in your room. 

What are we doing on Saturday?

Harmony University students, Saturday is "choose your own adventure" day.  You may:
Sleep in until dinner
Eat, sing tags, eat, sing tags, eat, sing tags….
Attend Saturday elective offerings  @ 10:30 am, 2 pm, 3:15, and 4:30
Take a bunch of private lessons, offered most of the day
Grab an UBER and see Nashville
Any combination of the above
Make sure you attend our EPIC Saturday night concert and goodbye celebration.  8 pm…it's included in your tuition.
Quartets, you may select any of these choices, or you may choose to perform around town. Let us know during your time at Belmont, and it will be arranged.  We have found most of the time, quartets are pretty tired by Saturday, and they would rather hang out on campus… you make the call and let us know.

Choruses, we have taken you to town to sing over the past few years, but it never worked out as well as we hoped.  For 2017, we are letting you be a regular old student on Saturday, and you can take classes, lessons, or just chill out like the rest of our students.  

Are Private Lesson available?

YES! These are for anyone who would like to grow in conducting, sight singing, vocal production, music theory, or arranging in our style.  Music educators, directors, and the curious are welcome!  Go into EVENTBRITE, select the number of lessons you want (they are $25 each), then go into SCHED and pick the day and time, and you are golden!  Some of the lessons are offered at the same time as your Monday-Friday class… it's OK to miss for these lessons.  If you change your mind and want to add more, you can go back to the payment site, select more lessons, and select lessons. 

HEADS UP:  As our registration grows, some classes will not fill, and we will cancel them, now freeing up that instructor for private lessons.  About once a month, we will send updates on these added teachers (that were not available when YOU signed up).  It's possible you may want to switch lessons… you can do this in our SCHED system.  It's pretty slick.   

What should I know about elective courses?

Electives are based on adult education models:  offer a myriad of great content, and let people vote with their feet!  Sometimes it HURTS to choose one class over another.  We feel your pain.  Some classes will be standing room only.  Some will have 10 people.  The content is still good in a small class!  These are all posted in the lunch time elective and master class tabs on the main page!

If you sign up, it gives us a rough head count, and we will know that 150 people are interested in the class on underwater barbershop techniques.  Now we know to use a larger room. 

The best part is you can decide to switch, or go to another class, or just walk across the street to have an adult beverage.  Your call! 

Are continuing education credits (CEU) available?

Students that are interested in receiving graduate college credit or continuing education units/clock hours, we have them available through Adams State University.   This is because of the generous help of one of our HU faculty members and barbershop buddies, Dr. Jay Dougherty.  Thanks, Jay!
Graduate credit @ $55
CEU's @ $25
If you wish to take advantage of this offer, sign up —->  HERE, but please do this before you attend HU. Jay will meet up with all interested students after our first general session and explain what you need to do to get credit (beyond paying) and you are good to go!

The last few years a few teachers tried to do this AFTER HU was over and it was too late.  

Questions? jmdougherty@gmail.com 

Is there access to a Fitness Center on Campus?

Yes! It is located in Beaman Hall.  The cost to utilize the facilities at Belmont University is $35 for a week-long membership with no doctor's note required! 

For the most up to date hours available, visit Belmont's Web site. In general, the facilities are available: Monday – Friday 6 AM – 7 PM
Monday – Friday 6 AM – 7 PM
Saturday 1 PM – 5 PM 
I have a medical need that requires refrigeration. Are there refrigerators in the rooms?

We will have small "dorm" style fridges available for our students who need to keep medicine, insulin, or special dietary foods.  Belmont does not have any refrigerators in dorms, but they will allow us to keep these for medical purposes on the first floor.  Our fridges will be in a central location, near your check in location, in each dorm.  You will be sharing this unlocked fridge with other students, so please clearly mark your items.  We can't store your ice or left over pizza… just medical supplies or special dietary needs. 

I am completely new to the Barbershop Harmony Society or the art form of Barbershop. What should I know?

OctavesVocal range and octave choice matter in barbershop… it matters a lot!  Women, most of you can sing our men's tenor or lead part, but it will lay pretty low in your range.  The bass and baritone part on our men's charts will be too low for most of you, but yes, we have exceptions!  If you have the notes, in the range written, please sing the part you want!

We do have a cultural request that men and women not sing anything up or down an octave of the arrangement.   Because of the way our chords stack, it's not OK to just decide the octave you want to sing. Warm-ups don't count.  

Sheet music

You will notice a few barbershop traditions that look a little different, but hey, it's how we roll!

We have 2 systems (like SATB)

We have a treble and bass clef (like SATB), even though you are all women or men

Women: The bass clef has a little 8, meaning you sing all notes one octave higher than normal

Men: The treble clef has a little 8, meaning you sing all notes one octave lower than normal

To help you follow your part, all note stems for your part go the same direction.  Tenor and baritone, your note stems always go up, lead and bass, your note stems always go down.  It takes a minute to get used to, but you will quickly see how it helps you find your part quickly when notes are close together.

Learning tracks

As we mentioned above, we provide learning tracks.  This is so you can hear what our music sounds like all together, but also how your part fits in.  Here's how we recommend you learn your music before you attend HU:

Listen to a full mix (both ear buds in) and follow along with the sheet music. 

Take OUT the ear bud with the three parts so you only hear your part.  Sing a long and really get a feeling for how your part goes.  Try it five or six times in a row.

Most important step… take out your part and put back in the other ear bud with the three other voice parts.  Try to sing your part against these three.  Depending on your experience, this will take some time, and it's OK.  Just keep working at holding your part against the other three.  We have found most singers struggle with this at first, but get better quickly.  Yes, even All-State singers.  You can do it!  You may have to sing with both ear buds in if this step is too tricky.

If the part you are practicing is too hard, try another part.  Most people say singing lead is easier to learn, since you are singing (mostly) the melody.

Gender

The Barbershop Harmony Society is a men's singing organization.  We do have many female coaches and directors in BHS, and even have and even have an official status (Associate) for women.  We are proud that we have many women on HU faculty representing the BHS, and two other barbershop style singing groups for women:  Sweet Adelines International, and Harmony Incorporated.  These teachers were not selected because of their gender… they were selected because we want the best teachers in the world, and this team of men and women are the best of the best.  

Students are welcome regardless of gender.  We hope that women will feel welcome and included in our educational outreach, because barbershop is barbershop, regardless of your gender.  The only time gender becomes an issue in our music is vocal range.  Most of our charts will be too low for most women to sing the bass/baritone part, but you are encouraged to sing whatever the heck you want.  We do have a cultural request that you do not sing anything up an octave when singing with us.  You will be singing in your chest voice most of the week, so take it easy!

We like to sing 24/7

We sing at in hallways, in bathrooms, in dorm rooms, in the closet, out of the closet, waiting in lines… you get the idea.  If you are a sensitive sleeper, you may want to bring ear plugs, as you will most likely hear singing in the area at 2 AM.  Weird, I know. 

We don't always sing the written rhythm, on purpose

If we are singing a song with a firm tempo, barbershop singers perform pretty much the notated rhythm, with a typical slow down on the last few measures.  However, when we sing ballads or often an introduction, we sing these songs in a rubato (free) style.  For our opera friends, think about the recitative.  This takes a little while to feel, as we blast through whole notes and hold eighth notes.  In general, we ask ourselves, how would you speak these words, and then try to sing those words using that timing.  We love harmony and chords, so we hold chords a lot longer than most other styles… particularly at the end and cadence points.  If a whole note is the last note written, you can pretty much count on that being 3 or 4 measures long.  The recordings we have provided are a pretty fair representation of what you will hear at HU.

Vocabulary

Barbershoppers are very much like any music style… they have their own words and expressions that may seem odd at first!  Here are a few that you will encounter during your stay: 

First, we call our four parts

Tenor:  A harmony voice that is the highest, treble clef, note stems up.  Men will sing mostly in falsetto or mixed voice, while women should sing much softer than traditional choral groups.   This is NOT the melody (most of the time) in our style, and we shoot for 10% of a chorus on THIS part.

Lead:  The melody voice, treble clef, note stems down (2nd voice down, in the alto or Tenor 2 spot).  This is what we recommend for people new to barbershop, and we shoot for roughly 25% of a chorus on THIS part.

Baritone:  A harmony voice below and sometimes above the lead, bass clef, note stems up.  Because this harmony part is moving above and below the lead, it is the clearly the most difficult part to try at the start of your barbershop adventure.  It will often sound very strange to the new listener, but by the end of the week, you will love this part, and we shoot for 25% of a chorus on THIS part.

Bass:  A harmony voice part that is the lowest, bass clef, note stems down. Yes women, in women's barbershop, you sing bass, just like in men's barbershop….just a little higher so it fits your range.  We shoot for 40% of a chorus on THIS part.

Tag:  The ending (coda) of the song with a flourish of chord changes.  This ending has become such an important part of our culture that we often teach these little endings to each other as a stand alone musical experience.  Much like any musician who "jams" with another, barbershop singers teach these endings.  Our tradition is to teach them by ear, without printed music, which can be confusing at first.  We will teach a tag at each general session, and you will hear hundreds of them during your stay. Make sure your phone is charged to record some! 

Hanger:  One of the voice parts holds one long note on a single vowel of a word, while the other voice parts change chords and words around the singer, and can be as long as 30 seconds.  This is most typical in the Lead part.  Ask to learn the tag "Behind" from someone at HU.

Swipe:  A glissando (slide) from one note to another

Fifth Wheeling:  a frowned upon activity where a person joins a group of four uninvited by singing along.  To avoid this faux pas, wait until they are done and ask if you can sing along on the part you know.  They will smile and say YES! 

What can I expect as the general culture of HU or Barbershop in general?

We are proudly and unashamedly a G-rated, family show.  We even have 10 part code of ethics for our members that have general expectations on the back of our membership cards.  Here are a few:
We shall accept for membership only congenial men of good character.
We shall exhibit a spirit of good fellowship toward all members.
We shall not permit the introduction of political, religious, or other similar controversial issues.
We endeavor to spread the spirit of harmony throughout the world.
We ask the same of you… to be nice, encouraging, and not introduce bad energy or language to our classrooms, our meals, our dorms, and our campus.  We are a super caring group of people, and we are glad you coming to learn with us.  But we expect you to be like us and show the love right back!