Attention MEN who like to sing!
We're excited that you're interested in joining us for the All Chapter Chorus experience in Costa Mesa, CA at the 2018 BHS Midwinter Convention.
The All Chapter Chorus is about giving our members a chance to get out of the chair and onto the stage with their barbershop brothers.  The thrill of performing in a large chorus, with other men who have prepared music ahead of time, being directed by a gold medal chorus director, for three short rehearsals, is both thrilling and fun.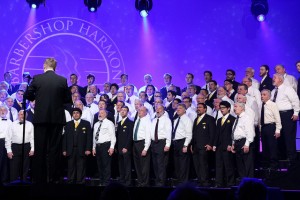 After registering through the below form, downloadable sheet music and tracks will be provided for this year's songs:
I Told Them All About You (Bluegrass Student Union)

I Heard You Singing (Grandma's Boys and Max Q).

Sit Down, You're Rockin' The Boat (Chiefs Of Staff and Gas House Gang)
Heads up….All Chapter has a fee this year. 
If you have joined us over the years, our Harmony University team has provided music, learning tracks, and extended hours access to our rehearsal space at no cost to participants.  These fees have really added up (especially with last years choir being over 150 guys).  We don't want to make money, but we also can't lose money.  That's why we added a small fee this year.  
Ready to register?