Book new Singing Valentines gigs in minutes with GigSalad
Getting started on GigSalad is quick and easy -- you should be able to complete the basics in as little as twenty minutes. We'll show you how to get started in this quick step-by-step tutorial.
Categories
Critical -- be sure to set your PRIMARY category to SINGERS > BARBERSHOP QUARTET. This is an important part of the search criteria that will find you for Singing Valentines. In a later step, you can additional categories.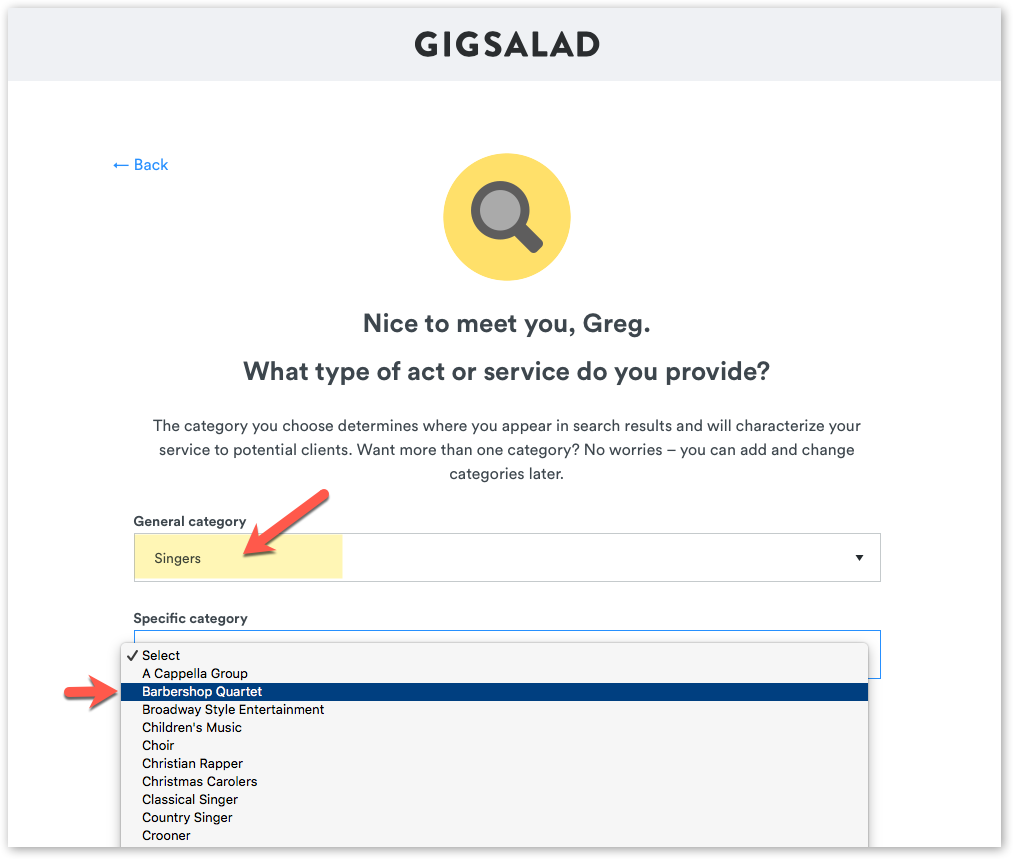 Name
Use your actual performing unit name, and add Singing Valentines to the end, because you are permitted to change it later with a phone call.
Picture
Fudge a little, because in the round, you may not look like four guys
Add performance shots later
Add video of delivery if you have it.
Services overview

This is the primary identification of your service, so be sales-oriented. Try something along these lines:
Surprise your sweetheart with a Singing Valentine for an unforgettable memory! A barbershop quartet will deliver your musical message of love anywhere in metro Milwaukee -- at work, school, home, or out on the town -- in stirring close harmony. Better than just flowers -- it's an "I Love You" sung straight to the heart.

Apply the coupon code you received when you registered as a Standard or Premium BHS quartet and click "apply coupon" to receive the Society discount.
Enter billing info
Bill the service to your credit card.
Enter billing info
Bill the service to your credit card.
Enter payment info
You may choose to receive your payments from bookings by PayPal, direct deposit to your chapter bank account, or by a plain old paper check mailed to your chapter.
Critical: Edit and expand your PromoKit
Follow the links to Edit your PromoKit.
To show up as a Singing Valentine service, you MUST set your Primary Service to UNIQUE & SPECIALTY > SINGING TELEGRAM.

You may also add up to additional categories. We suggest
A cappella group
Barbershop quartet
Choir
Christmas Carolers
Singing group
… and others

Explore the full suite of GigSalad marketing tools
At your leisure, work your way through the rest of the PromoKit tools. Where the initial set up may have taken you twenty minutes, you may need another thirty to create a complete profile and to optimize your results.
Use the extensive Help System at GigSalad to get the full value of the service.
Receive quote requests on your website
Use the quote widget to embed a GigSalad form on your site - -a quick and easy way to expand your order-taking capabilities immediately.




Frequently Asked Questions
Is this only for Singing Valentines?
No! We're promoting it for Singing Valentines right now because it's so quick and easy to get started, and Singing Valentines are the biggest single day of barbershop performance each year.
How much does this cost?
Subscription:
Use the promo code provided when you registered as a Standard or Premium BHS quartet to receive 50% off Pro and Featured accounts.

A Pro account paid month by month is $19.49; six months at a time is $16.25 month, or annually, as little as $13.48.
Processing fees: GigSalad will charge the customer a service fee of 5%-8% of the listed price, and the performer a transaction fee of 2.5% of the listed price. For example, a Singing Valentine priced at $50 would bill $54 to the customer ($50 + 8%), and return $48.75 to the chapter ($50 – 2.5%.)
Why GigSalad instead of the old singingvalentines.com service?
"Alongside SingingValentines.com" might be more accurate.
The most important drive behind the partnership with GigSalad is the need to put barbershop entertainment out in the marketplace alongside other entertainment products. When customers think about hiring entertainment, barbershop might not be their first thought -- but it can be. GigSalad is already used by more than one million customers to book all forms of entertainment -- and barbershop can be part of the conversation.
The embeddable quote widget also makes it easy to put your hbooking engine right in front of visitors to your web page, and the favorable processing fees make it a cost-friendly service for every group.
Traffic to the old site SingingValentines.com has diminished in recent years, and its technology is outdated. We will maintain the site and drive traffic to GigSalad accounts with a clickable map. Future enhancements to the Member Center will include fields for chapter and quartet booking sites
Who can I contact for help or more information?
The GigSalad Happiness Team is ready to answer questions about your listing, provide technical support, and ensure your experience is great. Start with their online Help Center, use their contact page to reach support or phone them at 866-788-GIGS (Monday-Friday 8am-5pm Central).