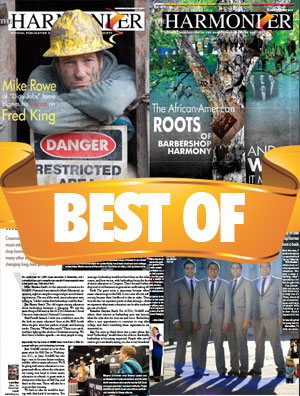 Published since November 1941, The Harmonizer is the Barbershop Harmony Society's premiere magazine publication.
It is delivered in six bi-monthly installments to over 19,000 members, associates, and barbershop enthusiasts across the United States and Canada.
Take a look at a sampling of some of the recent stories of note and special features we've highlighted that demonstrates how we began, who we are today, and our Vision for a bright future of Everyone in Harmony.

"New Directors Wanted" Ads
Did you know? New director ads are free to Society chapters (first 50 words)! In addition to placing an ad in The Harmonizer, we'll replicate your ad on our Chorus Directors page to help you spread the word.
To submit an ad request, please contact marketing@barbershop.org.

Submission Deadlines for Harmonizer issues:
May/June 2019
"As Seen In" Featured Content:
National Barbershop Quartet Day news coverage
Relative Harmony quartet serenades hospice patient
Lifting the wounded: New Zealand concert-turned-benefit
Ready? Set, Sing! program manual (members: find more info in Doc Center)
2019 Midwinter Convention Performance Highlights
March/April 2019

"As Seen In" Featured Content:
Links to more extensive details on options for mixed/women's groups
Clip of Ragtime Gals with Weezer
Clip of Geico commercial featuring a barbershop quartet
Land more National Anthem gigs!
Rogue Valley Harmonizers Singing Valentines featured on local NBC news

My definition of true barbershop heroes: extended article
January/February 2019
"As Seen In" Featured Content:
Harmonium brings "The Polar Express" to Kansas City
Southerntiersmen Barbershop Chorus honored by Binghamton Mayor, State Assembly of New York
Find vintage recordings from the past hundred years
Get the Music Medics Guidebook
Follow along with new members -- Intro to Barbershop: What is Barbershop?
See all of our past issues
Members - login to the Doc Center to view the full archive of The Harmonizer magazine. See all of our past issues from 1941 to today, and a few of our favorite stories, too!
Advertise or Subscribe
Subscribe
For just $25/year (US/Canada), non-members can subscribe to the premier publication of the Barbershop Harmony Society (+$10.00 International).