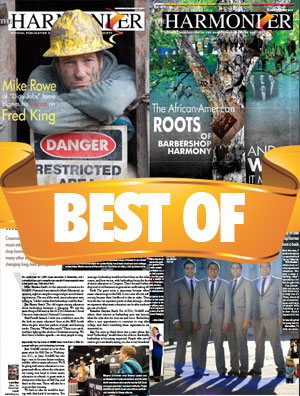 Published since November 1941, The Harmonizer is the Barbershop Harmony Society's premier magazine publication, delivered bi-monthly to over 19,000 members, associates, and barbershop enthusiasts across the United States and Canada.
Take a look at a sampling of some of the recent stories of note and special features we've highlighted that demonstrates how we began, who we are today, and our Vision for a bright future of Everyone in Harmony.

Read a collection of past Harmonizer articles on our blog.
November/December 2021
Featuring: A tribute to Joe Liles • Help others want to sing! • Neurodivergence: Work better with people who are literally wired differently
Links in this issue:

From Tip Sheet: How to help others want to sing barbershop
September/ October 2021
Issue highlights: Free singing lessons— a public service • Your happiness machine • Happiness leads to growth • Spotlight: Melody Hine
Links in this issue:

July/Aug 2021
Happy days are here again! A post-COVID present and future: after more than a year of virtual offerings, BHS groups are finally returning to ringing chords together live and in person.
As featured in The Harmonizer, July/Aug 2021
p 5: Jim Henry and "Keep the Whole World Singing"
9: "Together Again" -- Stories from the BHS blog
10: Kohl Kitzmiller's "Mario Acapella" (Facebook login may be required)
12: BHS Music Theory resources (Member login required); Dave Stevens' "What are we trying to preserve?"
15: San Antonio Friends in Harmony story
May/June 2021
Seize the Moment: Be ready to implement your biggest dreams and brightest ideas–be ready when the post-COVID window opens
As featured in The Harmonizer, May/June 2021
See all of our past issues
Members - login to the Doc Center to view the full archive of The Harmonizer magazine. See all of our past issues from 1941 to today, and a few of our favorite stories, too!
Subscribe
SUBSCRIBE TO THE HARMONIZER
For just $25/year (US/Canada), non-members can subscribe to the premier publication of the Barbershop Harmony Society (+$10.00 International).
Click here to subscribe today!
Submit a Story
Do you have a story you'd like to share? Send an email and any accompanying photos to marketing@barbershop.org to get started.
Advertise
2021 Space Reservation Deadlines
Jan/Feb 2021 - There are no advertising options for the Jan/Feb issue at this time
Mar/Apr 2021- Ad commitment by January 5, 2021
May/June 2021 - Ad commitment by February 24, 2021
July/Aug 2021 - Ad commitment by April 28, 2021
Sep/Oct 2021 - Ad commitment by June 23, 2021
Nov/Dec 2021 - Ad commitment by August 25, 2021
View advertising rates below, and contact marketing@barbershop.org to get started!
"New Director Wanted" ads
Place your ad in our next issue!
New director ads are free to Society chapters (first 50 words)! In addition to placing an ad in The Harmonizer, we'll replicate your ad on our Chorus Directors page to help you spread the word.
To submit a "New Director" ad request, please contact marketing@barbershop.org.