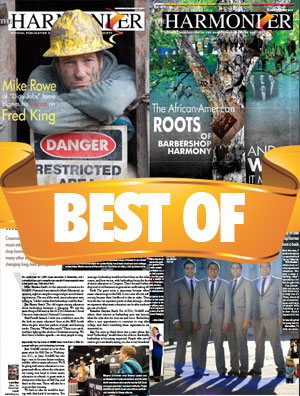 Published since November 1941, The Harmonizer is the Barbershop Harmony Society's premiere magazine publication.
It is delivered in six bi-monthly installments to over 19,000 members, associates, and barbershop enthusiasts across the United States and Canada.
Take a look at a sampling of some of the recent stories of note and special features we've highlighted that demonstrates how we began, who we are today, and our Vision for a bright future of Everyone in Harmony.

September/October 2018
July/August 2018
The July/August issue announces the next phase of the Everyone in Harmony Vision: The BHS opens its membership to everyone as each chapter determines its own identity. Read more about the new world of possibilities opening up with the policy that BHS membership is now open to everyone. Whether chapters will choose to adopt new innovations is entirely in their hands.
"As Seen In" Featured Content:
The related video referenced on page 5 about the French-Canadian documentary featuring the quartet Gimme Four! and the Mid-Atlantic Convention is linked here but requires a paid premium account with ICI.TOU.TV. (The link will only work with the subscription, otherwise it will return a 404 error.)

Video of Out of Time quartet referenced on page 26
Video of Lake Effect singing while on a trip into the wilderness referenced on page 32


May/June 2018
A Midwinter to remember! Orange County, CA served as a gorgeous backdrop to yet another fantastic Midwinter, with events being held in the stunning world-famous Renée and Henry Segerstrom Concert Hall. This issue recaps the fantastic Seniors Quartet Contest (St. Croix Crossing emerging as champs) and the always unforgettable Youth Chorus Festival which is making a measurable impact on both singers and chorus directors alike.
This issue also covers the ongoing music education advocacy that's growing alongside our relationship with ACDA and NAfME. Topics cover how to create a successful long-term quartet, recent developments in the Everyone in Harmony Vision, and how chapters are making a difference in their communities.
"As Seen In" Featured Content:
NAfME resources referenced on page 13 include:

5 Ways to Support Your Music Program
See all of our past issues
Members - login to the Doc Center to view the full archive of The Harmonizer magazine. See all of our past issues from 1941 to today, and a few of our favorite stories, too!
Advertise or Subscribe
Subscribe
For just $25/year (US/Canada), non-members can subscribe to the premier publication of the Barbershop Harmony Society (+$10.00 International).