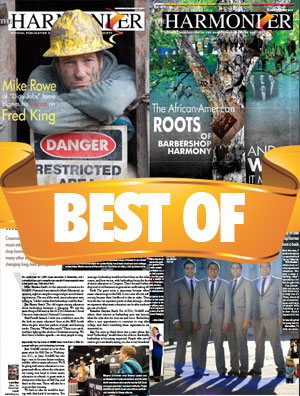 Published since November 1941, The Harmonizer is the Barbershop Harmony Society's premiere magazine publication.
It is delivered in six bi-monthly installments to over 19,000 members, associates, and barbershop enthusiasts across the United States and Canada.
Take a look at a sampling of some of the recent stories of note and special features we've highlighted that demonstrates how we began, who we are today, and our Vision for a bright future of Everyone in Harmony.

"New Directors Wanted" Ads
Did you know? New director ads are free to Society chapters (first 50 words)! In addition to placing an ad in The Harmonizer, we'll replicate your ad on our Chorus Directors page to help you spread the word.
To submit an ad request, please contact marketing@barbershop.org.
Submission Deadlines for Harmonizer issues:
Jan/Feb 2019 - January 11, 2019
Mar/Apr 2019 - March 1, 2019
May/June 2019 - May 1, 2019
July/Aug 2019 - June 28, 2019
Sep/Oct 2019 - August 30, 2019
Nov/Dec 2019 - November 1, 2019
November/December 2018
September/October 2018
July/August 2018
May/June 2018
See all of our past issues
Members - login to the Doc Center to view the full archive of The Harmonizer magazine. See all of our past issues from 1941 to today, and a few of our favorite stories, too!
Advertise or Subscribe
Subscribe
For just $25/year (US/Canada), non-members can subscribe to the premier publication of the Barbershop Harmony Society (+$10.00 International).