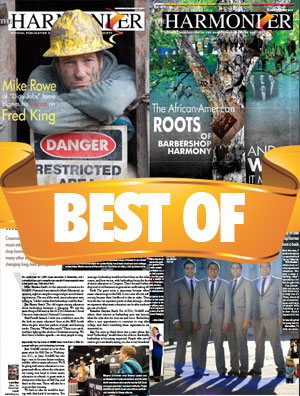 Published since November 1941, The Harmonizer is the Barbershop Harmony Society's premiere magazine publication.
It is delivered in six bi-monthly installments to over 19,000 members, associates, and barbershop enthusiasts across the United States and Canada.
Take a look at a sampling of some of the recent stories of note and special features we've highlighted that demonstrates how we began, who we are today, and our Vision for a bright future of Everyone in Harmony.

Read a collection of past Harmonizer articles on our blog.
Advertise or Subscribe
LAST CALL FOR 2019 HARMONIZER ADS!
The last day to submit an ad request for the November/December 2019 issue is Friday, October 11, 2019.
Contact marketing@barbershop.org to reserve your space today!
2020 Space Reservation Deadlines
September/October 2019
"As Seen In" Featured Content:
Watch the Music Category Revisions video (ref. on page 8)
Smack-talking Barbershop Quartet Hits Hard:
Looking for portraits of all the competitors from Salt Lake City? Click here!
The Aliens quartet singing the funniest set of all time
July/August 2019
"As Seen In" Featured Content:
Interested in an internship? Visit our Internships page or read more about the Internship Experience

Click here to watch the Barbershop Revival: Durham, NC video
Click here to watch Evan Boegehold teach the tag Like Leaves, We'll Fall and download the tag here
May/June 2019
"As Seen In" Featured Content:
National Barbershop Quartet Day news coverage
Relative Harmony quartet serenades hospice patient
Lifting the wounded: New Zealand concert-turned-benefit
Ready? Set, Sing! program manual (members: find more info in Doc Center)
2019 Midwinter Convention Performance Highlights
See all of our past issues
Members - login to the Doc Center to view the full archive of The Harmonizer magazine. See all of our past issues from 1941 to today, and a few of our favorite stories, too!