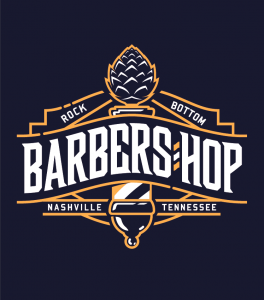 WOW! You all are highly skilled at coming up with clever names... it must be all of that practice naming quartets. We had MANY wonderful submissions for our Rock Bottom Brewery #BHSNASH special brew (see a longer list here or here!) that represented just about every barbershop in-joke and catchphrase. Here are some of the finalists:
Overtone Ale
Seventh Heaven
Singing People Enjoy Beer, So Quietly Enjoy Some Ale (SPEBSQSA)
Ale Be Seeing You
Brew-bershop
Harmony Hops
Every Good Beer Does Fine
BarberPole Brew
After combing through all of the submissions, a favorite emerged and our brewmaster agreed: BarbersHop was the winning entry! Versions of this name were suggested by several different barbershoppers, but first mention goes to Evergreen District's own resident beer aficionado John Burri. Pronounced Barber's Hop, this ale promises to be as cool and refreshing as barbershop itself. Enjoy a pint at Rock Bottom Brewery, located downtown at 2nd and Broadway.
BONUS: The fine folks at Rock Bottom were so enthusiastic about the upcoming convention brew that they whipped up a sweet logo for our collaboration, too. T-shirts will be available at Harmony Marketplace, while supplies last!