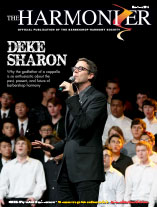 Check out the May/June issue of
The Harmonizer, now online at issuu.com.
Highlights:
Deke Sharon, the godfather of contemporary a cappella, is our newest Honorary Lifetime Member. Learn why he's so bullish on the future of barbershop harmony.
Instant Classic won gold with an incredible lock and ring and a deep connection with the audience. Learn how they accomplished both.
One of our best Midwinter conventions ever is on the books. Relive the memories.
Singing flat is a lagging indicator, not a leading indicators. Learn 10 reasons we sing flat and how to fix them.