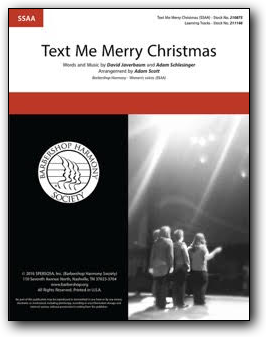 As the Society's music publishing program continues to expand to serve broader markets, it has become harder to visually distinguish sheet music among traditional men's barbershop voicing, traditional women's barbershop, and some new mixed-voice titles. Especially as we sell more broadly worldwide through our relationship with Hal Leonard, we want to make it easy for shoppers to quickly find the charts they need.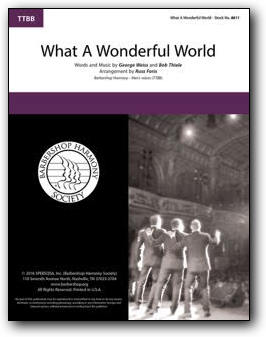 The cover design for our men's arrangements, the vast majority of our catalog, remains the same. You'll also notice that we have added the voicing abbreviation in the upper left-hand corner with in a corresponding color block. We all know as Barbershoppers, that every chart is voiced for Tenor, Lead, Baritone, and Bass, whether it is all men singing, all women, or some combination thereof. However, singers and music educators outside of the barbershop community (and those learning about barbershop) are much more familiar with the "TTBB" (Tenor 1, Tenor 2, Baritone, Bass), "SSAA" (Soprano 1, Soprano 2, Alto 1, Alto 2) and "SATB" (Soprano, Alto, Tenor, Bass) designations, so we have decided to include those on our covers, especially for charts that we make available through our partnership with Hal Leonard.
Music educators equate TTBB with all-male arrangements, SSAA with all-female arrangements, and SATB with arrangements for a group containing both male and female singers. Even though we know that those designations are not technically accurate where barbershop arrangements are concerned, this will help our outreach and branding efforts to introduce the "Tenor, Lead, Baritone, Bass" barbershop concept to more singers!