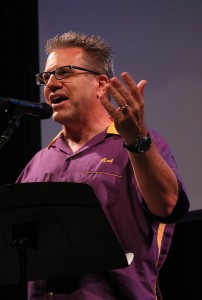 A lifetime of studying various musical styles took 2017 HU keynote speaker Kurt Heinecke down a wildly unexpected path. For over two decades, Kurt and a few of his imaginative "crazy" friends found themselves at the creative heart of an incredibly popular children's computer-animated video series and International sensation called Veggie Tales, regularly using their own musical backgrounds to breathe life into a rag tag group of lovable "nude, limbless vegetables".
Kurt treated the HU masses to a wide range of clips from the animated show's Silly Songs With Larry and demonstrated how ensemble singing and instrumental performance from his own background shaped the creative forces behind one of the most popular children's series of all time that led to over 75 million videos and CDs sold, two feature-length films being produced, and seven Dove Awards.
Kurt's exposure to barbershop began back in college where he became good friends with BHS CEO Marty Monson, and their friendship through to today led Kurt into an compelling opportunity to record a short snippet of Barbershop music for a new animated film coming this summer called Animal Crackers. The film features the voice talents of Ian McKellan, Emily Blunt, Sylvester Stallone, Danny DeVito, and Gilbert Gottfried, among others.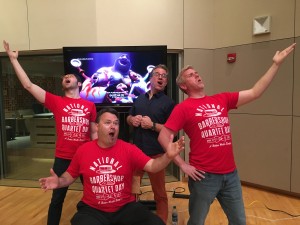 BHS staff members Eddie Holt and Donny Rose, plus HFI's James Pennington worked with Kurt to arrange and perform a quick barbershop musical line that is now a part of the final product, so keep your ears open when you watch it!
And finally, Kurt reinforced what many of us already know, but need to be reminded of from time to time. "You have an opportunity to elevate beyond the ordinary. Don't take this week together for granted. Drink it in. Making harmony together is one of the most united forces we know of in the world today." #everyoneinharmony indeed.