Since October 2015, men have been able to do something they couldn't do before: they found the Barbershop Harmony Society through their own means, clicked "join us" at barbershop.org and became full Society members without first joining a chapter.
After consultation with district and select chapter leaders, the Society Board last year dropped the requirement that members must belong to a Society chapter or district. The move is a small but important first step in a broader membership strategy. In an ever-changing social landscape where the consumer expects to help set the terms, this and coming strategies will help strengthen both the Society and individual chapters.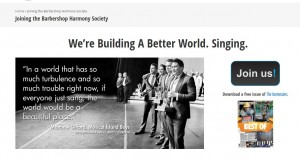 A new membership sign-up page at www.barbershop.org/join was launched in October without fanfare. We deliberately wished to test how "drive by" website visitors would react and transact. With no further promotion, we've registered more than 50 first-time members, nearly 90 former members who re-joined, and 22 members who decided to drop their chapter and district affiliation, but chose to remain members of the Barbershop Harmony Society.
A large number of these members stated that they either didn't live near a chapter or presently had no time for chapter life. They simply wanted to be part of the Barbershop Harmony Society, whether or not they were ready to attend chapter meetings. Many have since joined Society chapters.
This move represents a subtle but important shift moving forward – with Society membership as a distinct value proposition, even for members who do not enjoy the benefits of District or Chapter affiliation: as isolated Barbershoppers, music educators who believe in our mission, and others who wish to belong to the Society on their own terms.
As always, chapter membership still includes both Society and district membership. Competing quartetters will still be required to belong to a district (at minimum) and competing chorus members will still be required to belong to both a chapter and a district.
We've recently emailed select past Society members about this new option, and several have re-joined us on the spot. Some have gone on to join Society chapters. Future campaigns for past members and other potential members are in the pipeline. Stay tuned for more details!