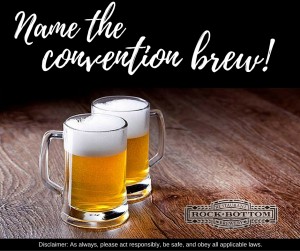 Among its many delights, Nashville has a nice craft brewing scene, and visitors to the convention will find plenty of choices throughout the city for a refreshing beverage.Courageously, a select team local barbershoppers has donated numerous volunteer late night hours to sampling the best.
As a result, we're pleased to disclose we are working with Brewmaster Thomas Mercado from Rock Bottom Brewery to create a special convention beer to enjoy while visiting Music City in July. He's leaning toward a Belgian-style Pale Ale -- a super-drinkable brew that will please the entire crowd. But first, this fine creation needs a suitably barbershoppy name.
Some guidelines: Naturally, all suggestions should be in good taste. Something that translates well to a NON-barbershop audience would be helpful. A riff on the particular style would be nice, but is not required.
Let the name games begin! Post your suggestions in the comments here OR on our Facebook post and we'll send the best to our Brewmaster for the final selection later this month.
A few silly names to get you going...bet you can top these!
Lemon Squeezy
A nice citrusy weiss.
The Auto Towner
Non-alcoholic, for longer singing sessions
The Golden Staters
A classic pilsner!
FRED
A weird name for a great Imperial stout. Drink only while wearing a loud suit and funny glasses.
Disclaimer: As always, please act responsibly, be safe, and obey all applicable laws.