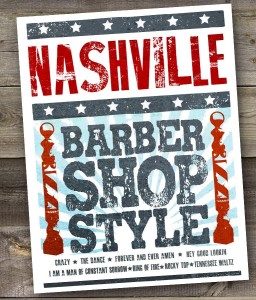 From beloved ballads to fast-paced, up-tempo tunes, this folio is the perfect resource for adding a little country flair to your quartet or chorus show or performing the entire collection as a complete set of country favorites.
Check out this fun collection of eight country songs arranged in the barbershop style by Gene Cokeroft, Aaron Dale, Tom Gentry, Rob Hopkins, Kevin Keller, Joe Liles, and Patrick McAlexander.
Crazy (arr. Hopkins)
The Dance (arr. McAlexander)
Forever and Ever, Amen (arr. Keller)
Hey, Good Lookin' (arr. Gentry)
I Am a Man of Constant Sorrow (arr. Dale)
Ring of Fire (arr. Keller)
Rocky Top (arr. Liles)
Tennessee Waltz (arr. Cokeroft)
Want learning tracks? No problem!