, a leading food and beer blog, has featured Rock Bottom Brewery's 2016 barbershop convention brew in a story by Barbershopper Chris Buirley (lead, The Regulars; president, The Alliance.)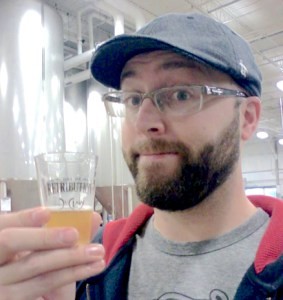 Barbershopper, craft beer enthusiast, blogger[/caption]
"Ah, the dulcet tones of a barbershop quartet. Think about it: When was the last time you lost yourself in a good old-fashioned rendition of "Good-bye, My Coney Island Baby?" And come to think of it, wouldn't that be even better with a great beer? According to one of our favorite new craft brewers, that answer is "Yes, yes it would."
We particularly like his analysis of the beer in barbershop terms:
"The yeast represented the lead. In barbershop context, the lead is the primary contributor of emotion and character — the featured voice. In Barbers Hop, this is definitely that special Belgian golden ale yeast, which makes those fruity notes sing louder.
"The malt would be the bass, or lowest harmony. The malt generates the foundational sugars for the yeast to consume, known in craft brewing terminology as "backbone." In a quartet, the low bass provides the musical foundation for chords and rhythm, upon which everything else rests."
Of course, we're particularly happy that Brewmaster Thomas Mercado was able to tear away from his duties to knock down a tag, too. (Breaking news! Thomas has just been named Brewer of the Year! No doubt Barbers Hop helped him on the path!)
Read the full story at Rock Bottom Brewery's Barbers Hop: Beer Infused With Harmony – Food Republic.