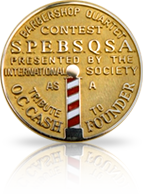 The AlC is excited to announce a new & improved Sing With The Champs event for this year's convention in Las Vegas - and you're invited! Please join us on Friday evening, July 7, from 10:00pm - 12:00am in the Wilshire Ballroom at the Planet Hollywood hotel immediately following the conclusion of the chorus contest.
What is "new & improved" about SWTC 2.0? Let us tell you!
It's Free! - That's right - SWTC 2.0 is a free event. Free to participants, and free to audience
No Need to Sign Up! - Forget to sign up in previous years, only to find out that your favorite AlC quartet is booked when you get to convention? Not this year. No sign-up or registration required -just show up and hop in line!
More Ways to Participate - Perhaps you've wanted to have that special moment with your favorite AlC quartet, but don't know an entire song and don't want to sing in front of the audience. This year you can! Want to just sing a tag? Want to just snap a picture? Share or hear a funny story? You can do any of those things in this new format. And of course, you can still sing your favorite song with them too!
More AlC Guys! - Want to sing a tag with your favorite AlC guy, even though his entire quartet isn't in attendance? This year you can! Many of the AlC guys will be in attendance, with or without their full quartet, and we'd love to share a SWTC moment with you!
Afterglow Feel - Similar to an afterglow, kick back and grab a beverage while hanging out at this SWTC event. A cash bar will be available as you enjoy this afterglow-like experience with a room full of your favorite AlC quartets! When you arrive, watch for one of the AlC Hosts, who will be there to help you find your AlC quartet or member, secure a place in line, help you snap a photo, or otherwise help out!
Donate to Youth Barbershop Quartet Contest - In the AlC's effort to continuously support the YBQC program, we invite you to make a donation at this new SWTC event. No cost for a song, a tag, a picture, or a story with your AlC favorites...just an opportunity to donate to the YBQC!
Quartet Schedules - While you'll likely find them enjoying the entire evening, the following quartets are scheduled to be in full attendance at the times noted below
10:00 - 10:45pm Ringmasters, Storm Front, Instant Classic, Forefront
10:45 - 11:30pm Crossroads, Masterpiece, Vocal Spectrum
We look forward to seeing you at the convention, and hope you join us at the new Sing With The Champs! I