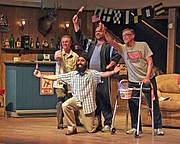 First produced in 2014, The Fabulous Lipitones continues to be staged in playhouses across the country. We loved this review of a current staging in Alexandria, Virginia:
[The director] loves how the characters are self-aware that their barbershop passions label them as "different," adding: "'The Fabulous Lipitones' celebrates the connection of people who have a passion for something that mainstream society labels as something of an awkward niche. I think there is a building acceptance of nerds in current society and a broadening of the definition of a nerd beyond science and tech types. I love to see my children and my students proudly wave their flags of difference, but barbershop singing shows that there has long been arenas for people with shared passions, to bond. The play also explores male bonding, as well as racism."
He said finding the right tone for a play that is so funny, but deals honestly with racism, was crucial to him. "Finding actors who could play this was a challenge, which was made more difficult by the casting limitations," he said. "Because of the themes of race and age in the play, the casting is quite specific. Furthermore, each character must fit a specific vocal part and the actors have to be able to blend voices in the barbershop style. I was incredibly fortunate to find the foursome we have."
Read the full review: The Little Theatre of Alexandria Presents 'The Fabulous Lipitones'.
The show is available for licensing -- perhaps a theater in your community would be interested in staging it?