Yuletide Favorites has been a barbershop holiday staple for more than three decades.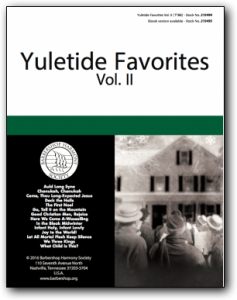 Following its tradition, Yuletide Favorites, Vol. II has been created as a worthy companion to the original, featuring accessible holiday arrangements in the barbershop style from Don Gray, Wayne Grimmer, Joe Johnson, Joe Liles,Greg Lyne, Adam Scott, Burt Szabo, Jeff Taylor, and Larry Triplett.
Whether caroling with a quartet or building a holiday program for your chorus, this collection offers 14 tried and true arrangements that require minimal to no rehearsal time and are easy and fun to sing. Part-specific learning tracks have been created as well as a separate full-mix listening recording to assist in learning these songs quickly and accurately.
We hope this collection enhances your enjoyment of the season!