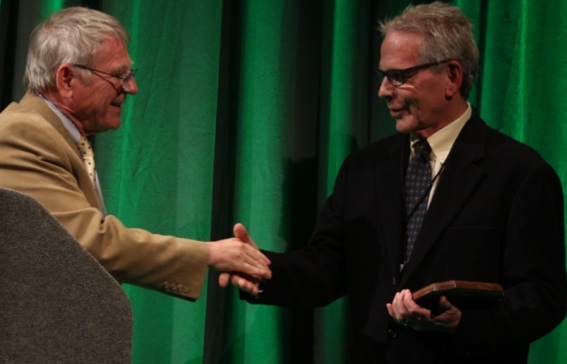 Tulane University scholar Lynn Abbott's groundbreaking research into the African-American roots of barbershop harmony was honored at the Barbershop Harmony Society's Midwinter Convention, when he was named an Honorary Life Member.
Abbott has authored numerous books and scholarly articles, including "Play That Barber Shop Chord: A Case for the African-American Origin of Barbershop Harmony" (1992), that represent a fundamental shift in understanding our musical roots toward a broader, richer background than the mythological white men in small town America. "Lynn Abbott's treatise leaves no doubt that though the phenomenon of barbershop harmony was eventually woven into the fabric of America's culture across race and class barriers, the African-American harmonizers were most likely the primary sources of our music, and also gave us the word barbershop," said Society Historian David Wright in presenting the award.
A clearly moved Abbott joked that he was "more comfortable in front of a microfilm reader than a lectern," and thanked Wright and barbershop historians David Krause, Jim Henry, and the late Val Hicks for their support of his work through the years.
Wright and Abbott subsequently presented a Harmony University session titled "The African-American Origins of Barbershop Harmony, and Why It Matters" which was attended by more than 300 guests held at the midwinter convention.
Read Lynn Abbott's groundbreaking paper online (free registration required) at bit.ly/barbershopchordabbott