After a successful and highly rewarding performance of this powerful piece, Musical Director Joe Cerutti shared some closing thoughts about the experience.
"I will never forget this week as long as I live. Rubbing elbows with artistic celebrities is probably what attracted us to accept this performance in the beginning, but the powerful message delivered through equally powerful music quickly surpassed it's star power and became our purpose for the last 4 months. Music changes lives, and we strive to create a better world through singing everyday, but today we didn't have to go too far to find lives that were changed."
The chorus enjoyed specific mentions in several reviews of the work:"What did consistently move me in the second act, however, was the choral singing, and the commitment all of the performers had to sharing the story. The all-male Alexandria Harmonizers lived up to their name, and offered up some of the best choral singing I've heard in this area along with the small group of some of the theatre's best male vocalists onstage (though [the] choreography for the ensemble was a little busy and slightly cheesy, the heavenly vocals distracted me from it)." - Jennifer Perry, broadwayworld.com
Read the full reviews here, here, and here!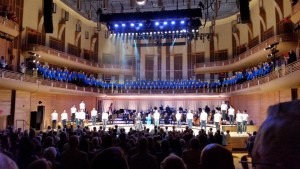 Excerpts from the work will be featured during a HU class at the Nashville Convention for those who would like to learn more about the experience and how other ensembles might look for collaboration opportunities. While the subject matter is mature and contains strong language and adult themes, our purpose in presenting this discussion is to explore the possibilities when barbershop ensembles such as the Alexandria Harmonizers break into the professional music world and showcase our ability to perform at the pinnacle with the very best. Viewer discretion is advised; attendance by minors is not recommended.
Barbershop and... difficult, mature themes? Aren't we supposed to avoid that?
To be clear, this is not really a "barbershop" performance. "I Am Anne Hutchinson/I Am Harvey Milk" is a contemporary oratorio which calls for a male chorus. The programming of this discussion is not intended as a debate or endorsement of the suitability of this material to a barbershop stage or audience. Themes of social justice, inclusion and collaboration are common throughout contemporary choral music, and we will continue to encounter it in settings outside the barbershop stage.