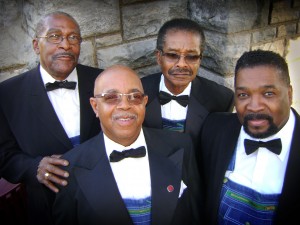 Acclaimed gospel quartet THE FAIRFIELD FOUR will become Honorary Life Members of the Barbershop Harmony Society this Saturday as the capstone of the Society's international convention in Nashville.
Founded 95 years ago at Nashville's Fairfield Baptist Church, The Fairfield Four have won multiple Grammy Awards, most recently Best Gospel album in 2016, and as part of the soundtrack for the 2000 film O Brother, Where Art Thou? The Fairfield Four are also recipients of the National Endowment for the Arts' National Heritage Award. Levert Allison, Larrice Byrd Sr., Bobbye Sherrell, and Joe Thompson comprise the Nashville-based quartet.
"The great continuing legacy of The Fairfield Four is an inspiration and a great model for us all," said Society CEO Marty Monson. "Their music moves us on a spiritual level, and also as an example of the power of singing to build communities."
Honorary Life Members of the Barbershop Harmony Society are performers and leaders who make an impact on the world through their passion and influence on close harmony and singing for everyone. Recent honorees have included:
Deke Sharon, a cappella godfather,

Lynn Abbott, researcher into African-American foundations of barbershop harmony

The Nylons, pioneer a cappella pop stars

Oak Ridge Boys, country mega stars

Bill Gaither, gospel music legend

Gordon Lightfoot, folk/pop superstar

Dick Van Dyke, Grammy/Emmy/Tony Award winning actor and singer
(see full list at http://www.barbershop.org/about-us/honorary-members/ )
The award will be presented by 2009 International Quartet Champion Crossroads. The two quartets have appeared together at many education events, exploring the heritage that barbershop and gospel share in the African-American music of the late 19th century.
The presentation will take place during the Saturday Night Spectacular, a free concert at the Bridgestone Arena at 5:30pm. The concert caps A BETTER WORLD SINGING DAY, a free event inviting all of Nashville to take part in making music as families. The Fairfield Four will launch the day with a free Gospel concert at 10:00 am at First Baptist Church. FREE TICKETS for the day's events are available online at www.barbershop.org/betterworld.