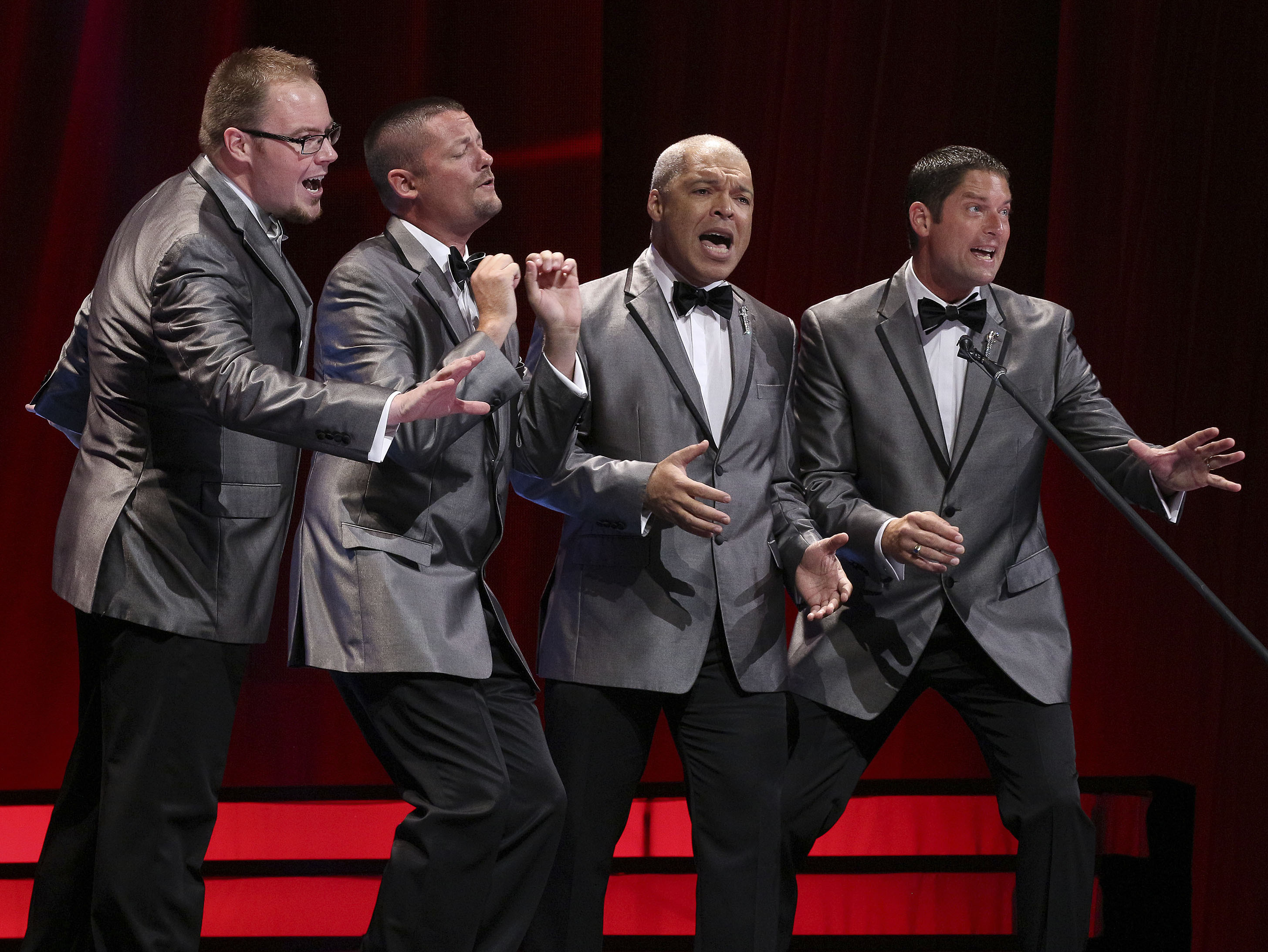 Left to right: Drew Wheaton, tenor; Kevin Hughes, lead; Brian O'Dell, bass; Aaron Hughes, bari
NASHVILLE -- FOREFRONT, a barbershop quartet hailing from Terre Haute, Columbus, Champaign and Louisville, bested 58 quartets from around the world to win the championship on July 11 at Bridgestone Arena.
The quartet's win comes after seven trips to the championship level, placing second for the past two years. The moment was particularly sweet as the medals were placed around their necks by retiring champions Instant Classic, their close friends and contest rivals who beat them to the gold last year.
Forefront mixed American songbook classics such as "Georgia On My Mind," powerful ballads such as "It Only Takes A Moment," and intricate jazz charts such as "I Got Rhythm" to win all three rounds of the competition, which opened on Wednesday.
The members of Forefront are: Drew Wheaton, tenor; Kevin Hughes, lead; Brian O'Dell, bass; Aaron Hughes, bari.
The top 5 quartets were in order:
Forefront,

93.3%, from Terre Haute, Indianapolis, and Louisville, Kentucky

Lemon Squeezy,

92.8%, from Stockholm, Sweden

Main Street,

92.6%, from Tampa and Orlando, Florida

Signature,

90.9%, from South Carolina and Florida

Throwback,

89.1%, from Hershey, Pennsylvania, and Miami and Sunrise, Florida
The quartet championship capped a week of contests and shows presented by the Barbershop harmony Society , and A BETTER WORD SINGING DAY, which brought thousands of Nashville guests downtown to sing along. Legendary gospel quartet The Fairfield Four was inducted as Honorary Lifetime Members of the Society and brought the crowd of more than 7000 to its feet with a hand-clapping performance.