Education event builds on the 8,007 who attended barbershop international convention in Nashville earlier in July

Quartets, choruses, teachers, directors, judges: more than 1,000 men and women of all ages gather for intensive courses in close-harmony a cappella

Free festival performances across city on Saturday, July 30 -- www.barbershop.org/freeshow

Free show featuring world-champion quartets open to the public - Saturday, July 30 -- www.barbershop.org/freeshow
The Nashville-based Barbershop Harmony Society shifts to classroom mode this week, bringing more than 1,000 close-harmony singers to town for its flagship education event July 24-30 at Belmont University.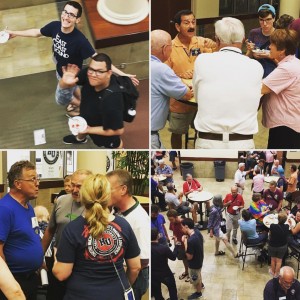 For more than 40 years, Harmony University has gathered singers and teachers from as far away as New Zealand and Brazil for intensive coaching in all aspects of singing, arranging and performing in the barbershop style. The 2016 offering will be its largest ever, and its third year at Belmont.
Earlier in July, the Society welcomed 8,007 guests to its international convention in Nashville, bringing an estimated $11 million economic boost.
"The music education scene in Nashville was a big reason that the Barbershop Harmony Society relocated its headquarters to Nashville in 2007," said CEO Marty Monson. "The Music City mystique has proven irresistible to our students, and Belmont's world-class performance, recording and teaching facilities have brought us to an entirely new level. The entire team has been incredibly welcoming, and we're looking forward to another fantastic week."
Tradition and innovation
Harmony University offers a range of instruction that extends from traditional singing techniques and choral conducting, songwriting and arranging, through social media training, microphone and recording techniques. Volunteer faculty include multiple doctorates, quartet and chorus champions, and paid professional staff from the Society's Nashville headquarters office.
Grand traditions will live on, including, most importantly, lots of impromptu late-night jam sessions, where singers constantly mix up different quartet combinations to sing tags, those brief, juicy eight bars that raise the goosebumps.
Key to all the fun: an egalitarian, all-welcoming atmosphere that eliminates all distractions of occupation, age, race, geography or achievement, in favor of the love of singing.
Men and women of all ages, all levels of ability
The expansive week of education encompasses musicians from all walks of life. Nearly 100 teachers will attend a special music educators track, many on scholarships underwritten by Harmony Foundation International, the Society's philanthropic partner. "Barbershop is a powerful tool in bringing young men into choral singing," says Sherry Lewis, part of the Outreach team. "Educators come away from this week energized and amazed at the level of assistance the Barbershop Harmony Society extends with no strings attached."
The Next Generation Chorus brings young men under age 25 together for a unique "boot camp" experience. "This is a chance to sing in an All-State caliber chorus mentored by world champion quartet singers -- it's like going to a football camp led by Tom Brady," said outreach director Joe Cerutti. "Kids make life-long friendships with other like-minded students from all over the world."
Chorus directors have their own school, quartet singers receive intensive coaching, and even administrators can study chorus building skills and social media.
Free festival performances, Saturday night show open to the public
All that great harmony shouldn't be bottled up on campus. On Saturday, July 30, the student body will board buses to stage free performances throughout downtown, including:
Sheraton Downtown

Walk of Fame Park

417 Union

Acme Feed and Seed

Nashville Farmers' Market

The Parthenon at Centennial Park
For details, visit www.barbershop.org/freeshow
Instant Classic, the 2015 International Quartet Champion, and The Buzz, 2005 Sweet Adelines International women's champion, will headline a closing show that will include the youth choruses and top quartets from the student body. Admission is free at the door, but space is limited. For details, check online at www.barbershop.org/freeshow.