Heather Nail of Valley Southwoods Freshman High School, West Des Moines, Iowa, has been honored with the Barbershop Harmony Society/ NAfME Music Educator Award. The award was presented by the Barbershop Harmony Society in partnership and collaboration with the National Association for Music Education (NAfME). It honors educators "who give students the opportunity to learn and participate in the joy and power that music education brings in uplifting the human spirit and fostering the wellbeing of society."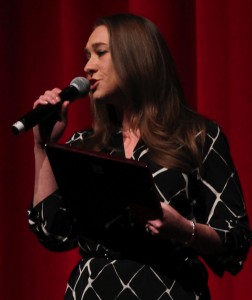 In presenting the award, NAfME Director of Professional Development John Norman commended Nail for "truly embodying the missions of both organizations."
Nail was nominated by colleagues from Valley Southwoods, the Pride of Iowa Chorus, and the Pride of Iowa Barbershop Chapter. All three nominations praised Nail's work with students and fellow educators to promote vocal music, especially the barbershop style, through workshops, conventions, and youth music events. The nominations commended her "student-centered teaching style" and ability to "increase the energy and support of her music compatriots which, in turn, (results) in more widely based and active student participation in youth music events."
Nail has been the Valley Southwoods Vocal Music Director since 2010. She is a Pride of Iowa Chorus partner and facilitates the Youth in Harmony programs. She is also a Pride of Iowa Music Educator Advisory Team leader and has participated in and hosted the Barbershop Harmony Society Des Moines Chapter Pride of Iowa Festival workshops. Nail has organized the Barbershop Harmony Society's performance and presentation at the Iowa Choral Directors Association (ICDA) Summer Symposium for two years. She also recently authored an article on the benefits of barbershop-style music for the ICDA newsletter.Before joining the West Des Moines Community Schools, Nail taught general music in the Des Moines Public Schools. She has a bachelor's degree in music education from Drake University, an associate's degree from Des Moines Area Community College, and a master's degree from Drake University. She is certified in the Kodály and Orff-Schulwerk teaching styles
--
The National Association for Music Education, among the world's largest arts education organizations, is the only association that addresses all aspects of music education. NAfME advocates at the local, state, and national levels; provides resources for teachers, parents, and administrators; hosts professional development events; and offers a variety of opportunities for students and teachers. The Association orchestrates success for millions of students nationwide and has supported music educators at all teaching levels for more than a century. With more than 130,000 members, the organization is the voice of music education in the United States. Follow NAfME on Twitter (@nafme) and on Facebook (facebook.com/nafme).
--
The Barbershop Harmony Society is the world's largest all-male singing Society, with more than 23,000 members across North America; affiliated men's and women's organizations in more than a dozen countries bring the total number of active singers to more than 70,000 worldwide. Through active programs in music education, publishing, performance and outreach, the Society preserves and extends the reach of a uniquely American close harmony musical art form whose roots lie in African-American communities of the South in the late 1800s. Founded in 1938, the Society now expends nearly $1 million annually in support of community and school programs that bring the fellowship, fulfillment and excitement of vocal music to a new generation of singers.
Follow the Barbershop Harmony Society on Twitter @barbershopnews and on Facebook (facebook.com/barbershopharmonysociety) For additional information, contact Brian Lynch, pr@barbershop.org or 615-673- 4131.