To provide a better experience for quartets and audience alike, some events at the 2018 International Convention in Orlando will take on a new look. We aim to optimize every performance by selecting right-sized halls for each event, so that performers can connect to audiences up close, and audiences get the best sound and sight lines possible.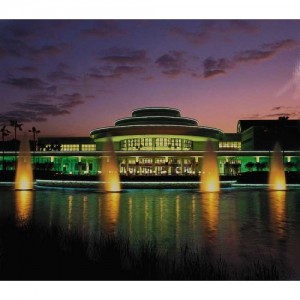 For 2018, that means we will stage the Quartet Quarter-Finals (Tuesday, Wednesday), the Next Generation Barbershop Varsity Quartet Contest (Wednesday), and the Association of International Champions show (Thursday) in the Linda Chapin Theater, a 2643-seat hall in the Orange County Convention Center. The International Chorus Contest, the Quartet Semifinals, Quartet Finals, and the Saturday Night Spectacular will all be held in the Center's large West Hall, which will seat more than 8,000 in our configuration.
All guests holding convention registrations will be able to see all events. Our attendance data over the past five years indicates the available seating will exceed the number of seats typically used for the youth and quarterfinal rounds, so we are confident there will be no capacity issues.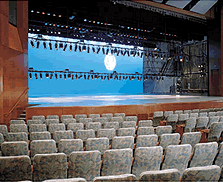 Seating for contest sessions on Tuesday and Wednesday in the Chapin Theater will be festival-style, with guests able to choose any seat on entering the theater. President's Council members will enjoy priority entry 45 minutes before the event starts, and regular admission will begin 30 minutes before the event.
Every competitor deserves to sing to an enthusiastic audience, and experience has shown that many quartets early in the draw have had to face a huge expanse of empty seats in large arenas. The true theater experience of the Chapin Theater should provide a better venue for everyone in the first round, and bring the entire audience as close as possible.
Frequently Asked Questions (FAQ)
What is "festival seating"?
Equivalent to "general admission," it means that seating is first-come, first-served. Seating accommodations for special physical needs will be available.
Will there be enough seats?
Absolutely. Looking at attendance figures for the last five years, we found that the maximum attendance at any given time for the youth contests and for the quartet quarterfinals will be easily accommodated by the seating we will have available in Orlando. Yes, there will be enough seats — and they all will be closer to the stage.
I'm a President's Council member — I should have prime seating for all events.
President's Council members will enjoy priority entry 45 minutes before the event starts, and regular admission will begin 30 minutes before the event. Experience in recent years has shown this method provides sufficient opportunity to select the seats you prefer.
Why change? We've used the same venue for all three rounds for years.
No one likes singing to an empty hall, which is how it can feel for some early-draw quartets singing to a thousand people in a room designed for five thousand. And no one likes sitting 40 rows back while looking at 39 half-filled rows in front of you. Singing in the "right-sized" theater will improve the experience for singers and audience alike.
How will this affect competitors, who are accustomed to the same stage in all three rounds?
The Society Contest & Judging Committee has approved the change. Since all competitors reaching the second and third rounds will have the same experience, there is an even playing field for all quartets. There is comfort in performing on the same stage all week, but we believe the benefit of a full house and more intimate setting will provide a richer first-round experience for all quartets.
How will this affect judges, who will have to score in two different kinds of rooms?
Our highly trained judges have experience in contest settings ranging from high school auditoriums and historic old theaters to hockey arenas and Las Vegas showrooms. Their skills allow them to focus on the performance regardless of the setting. Again, all competitors and judges are undergoing the same experience, so the effects should be negligible.
How will this affect the live stream on FloVoice?
There is no change in pricing or experience. Subscribers will receive the same high-quality video and audio.
Learn more about watching the live stream here: http://www.barbershop.org/orlando/live-stream/