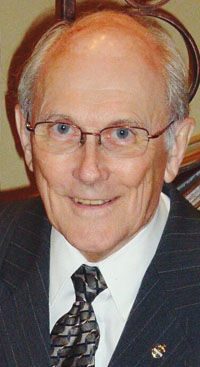 Our longest-serving Executive Director, Alan "Barrie" Best, passed away February 11, 2016, at the age of 87.
From 1963 to 1977, Best oversaw operations of the expanding Society, through years that saw the creation and growth of education and administrative programs, Harmony College, music publishing, among many other achievements.
His musical talent reached international recognition in the Barbershop Society as well as his local choir and the Barrie Best Chorale. He was executive director for the Barbershop Quartet Society from 1963 to 1977. He served valiantly as a member of The Church of Jesus Christ of Latter-day Saints until the day he died. His church service included serving as a Bishop for over seven years and as the Patriarch of the Vancouver North Stake. He was also a member of Rotary Club, Elks Club, Kenosha Country Club and the Society for the Preservation and Encouragement of Barber Shop Quartet Singing in America.

Barrie was the consummate example of chivalry, never let his wife Mary Anne open a door, and cared for her needs lovingly for 57 years. Barrie has already reached the first tee on his "eternal round" of golf…the game he loved so much. Barrie leaves behind an incredible legacy of love, compassion, charity, and humor. He was loved by many, and gave more than he ever received. He will be missed.
via Longview, Washington Daily News Online - Alan 'Barrie' Best.