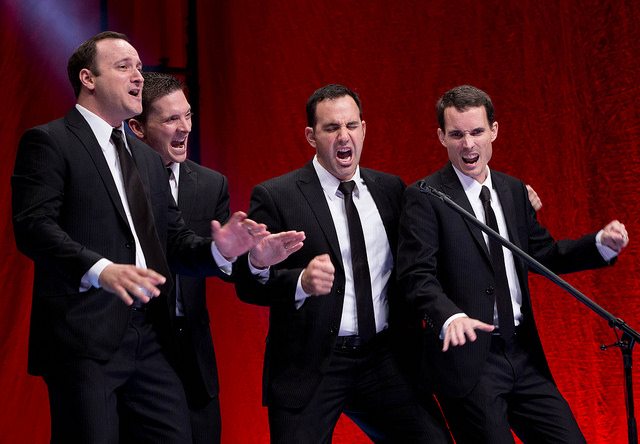 As The Crush looks back at the last night years,
we can truly say it has been a great run. We've traveled to 15 states, 5 countries, competed in 7 International Con

ventions (3 of which were Top Ten finishes), and won a District Championship. After all those wonderful times and many great memories, we have decided it's time for this foursome to "hang up our pitch pipes."
As many of you know, we became a long distance quartet in the fall of 2013. Josh relocated to Orlando, Florida that September to accept a full-time singing position with The Voices of Liberty at Disney World in Orlando. In November of 2013, Paul relocated to Minneapolis, Minnesota for work and personal reasons. John left California in April of this year to pursue a great career opportunity in Baker City, Oregon. Matt is still in sunny southern California, keeping our west coast connection alive.
Needless to say, our geographic positioning, coupled with family and career commitments, have resulted in making it very difficult for us to get together. While we were pleased with our Top Ten finish in Pittsburgh with a quartet-high 88% (Yeeeeeeaaaaaah!!!!) we are not able to sustain more long distance quartetting at this time.
We want to thank our home district, the Far Western District, as well as our home chapters, Masters and Westminster, for the years of love and support. We will honor performance commitments through this fall with the Masters of Harmony 30th Anniversary Celebration on September 12th, in Lakewood, CA; this is our last scheduled performance as a quartet.
You can anticipate seeing us around the BHS as we all pursue whatever barbershop endeavors or opportunities may come our way. So, this is not goodbye, but see ya later!
Matt, Josh, Paul, John
Here's a look at one of those Top Ten performances... the last International appearance by The Crush:
The Crush - You Took Advantage Of Me