With super-affordable hotel accommodations (starting at $89/night!), the 2017 International Convention in Las Vegas is already a great vacation destination. But if you thought it's only for grown-ups, you haven't looked at Vegas!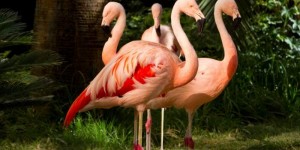 For starters, there's a surprising number of cool FREE activities. Las Vegas is great at leveraging its glamour into fun free attractions, such as the Dancing Fountains at the Bellagio, or the Wildlife Habitat at the Flamingo Hotel.
There are nearby natural attractions, like the Red Rock Canyon National Conservation Area, and the massive Hoover Dam.
You'll also find a huge range of family-friendly shows in the major venues and hotels. Magic and illusion are Las Vegas mainstays, and performers like Nathan Burton offer daytime shows aimed at general audiences.
To dig in further, check out these top web sites for family activities in Las Vegas. And as always, check with the concierge in your hotel -- they have great recommendations and can connect you to hidden treasures you might have missed otherwise.
Family Friendly attractions atLasVegas.com
Why You Should Take Your Kids to Las Vegas - Huffington Post
Las Vegas Attractions for Kids at Vegas.com
Seven Reasons to Take Your Kids to Las Vegas