Join the awesome combined choruses of the Ambassadors of Harmony and Vocal Majority with Crossroads, Vocal Spectrum and GQ, and you have the most incredible 350+ voices you'll ever hear!
I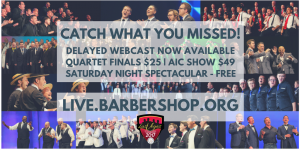 t's FREE by way of the delayed viewing features of this year's live stream! Here's how to watch.
Go to live.barbershop.org

Existing subscribers with Gold All-Events or Single Event purchases should log in

Non-subscribers should create a new account and log in

Add the free Saturday Night Spectacular event subscription to your account at no charge.

Enjoy the show!
See every contest performance now
While you're there enjoying the full HD video experience (looks and sounds great on your big screen TV!) , we hope you'll also consider the full Gold Package (all contest events), or the AIC Show. Delayed viewing for these events continues until August 1, 2017.
Convention attendees who purchased full registrations can save $100 on the full Gold Package. Check your email for message on Monday, subject line: "Thank you for attending BHSVEGAS - $100 coupon code".
More free stuff next month
For the patient: most contest content will be released on YouTube in mid-August next month. This "freemium" model ensures that a broad audience will have ongoing access to the state of the art in barbershop performance.