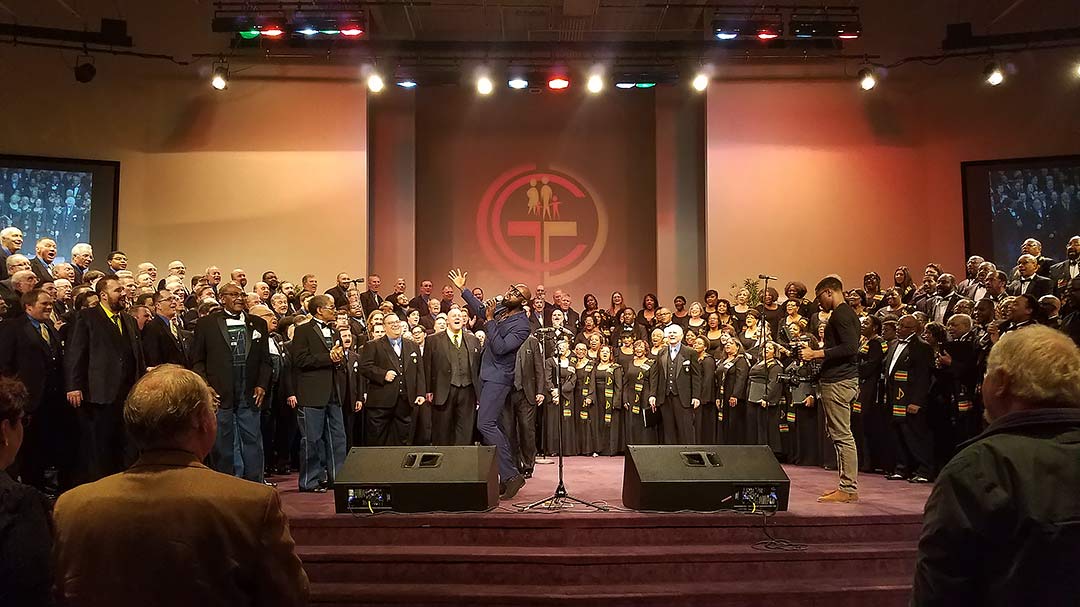 MARCH 3, 2017, FERGUSON, MO.
In a city that many people associate with racial tension, singers gather to show how the universal language of music transcends barriers
By Jeremy Gover Society A/V Manager -- jgover@barbershop.org
According to Merriam-Webster, the word harmony means "the combination of simultaneous musical notes in a chord." That's how we, a community of artists inside the Barbershop Harmony Society, know it.
Another definition offered up by the nearly 200-year old publication is "a pleasing combination or arrangement of different things" as in "when people are in harmony or in harmony with each other, they live together in a peaceful and friendly way."
The Ambassadors of Harmony are attempting to do both.
Along with their artistic neighbors, the St. Louis Symphony IN UNISON Chorus, the Ambassadors of Harmony put on a show this past spring. The show reverberated throughout the barbershop world; not just because it was sold out or because the lineup was all-world or because it was a collaborative effort between two musical powerhouses in one community. Another reason was because the "Then Sings My Soul" concert was held in Ferguson, Missouri.
Yes, that Ferguson.
The city has been in the news quite a bit over the past few years, for all the wrong reasons. In the summer of 2014, a white Ferguson police officer shot black teen Michael Brown, and conflicting reports on the nature of the incident surfaced in the national media daily. The predominantly black St. Louis suburb became the national epicenter for heated conversations regarding police violence, inequality, crime, and racism. Many protestors traveled to Ferguson, and some rioted. The U.S. president sent the U.S. Justice Department to investigate. In March of 2015, the local police chief resigned and two police officers were shot. Then, a month later, Ferguson saw more protests/riots in response to the death of Freddie Gray while in Baltimore Police custody.
In short, the name "Ferguson" has been shorthand for "negative race relations" for some time now.
"Ferguson has been through a lot," said Stanley Johnson, a member of the Ambassadors board and a singer in both ensembles. "A lot of struggles. A lot of division. A lot of things that tried to tear the community apart. It was portrayed as a separation between black and white. What you found out was that really wasn't the case. There were a couple of separate instances that happened that were being spun in a way that would divide African-Americans from our Caucasian brothers and sisters in our community. But when you looked at the marches and you looked at the protests, you saw everybody there."
Johnson is very proud of that.
"Everybody was pulling for the same cause because what's wrong is wrong and what's right is right," he said. "It's not about what I feel about this person or this officer or this community. We want to stand on the side of what's right. And I was really happy that so many people came together and stood together. That's how it's supposed to be."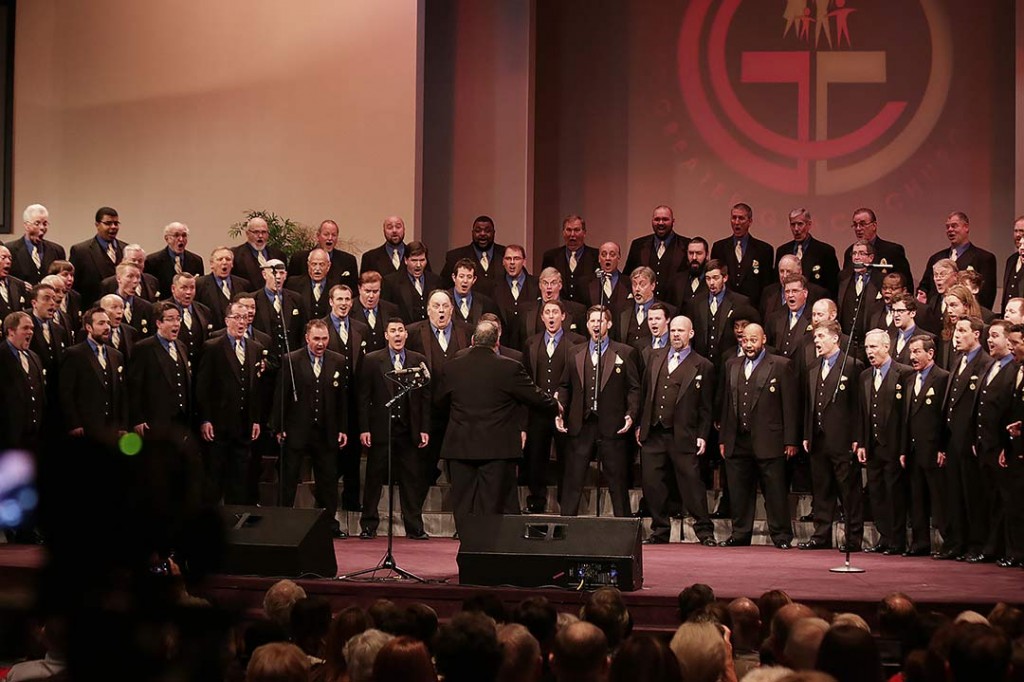 Together in harmony
People coming together and standing together in harmony. A real-life example of what the Ambassadors were trying to accomplish with this concert.
"This event culminates the mission of the Ambassadors of Harmony," co-director Jonny Moroni said. "We've really made a conscious effort to get out into the community more and impact more youth. That's been a focus of ours in the chorus, reaching out into communities that we don't necessarily touch frequently."
But where to hold the concert? Ferguson, yes, but where within the city? What venue would work hand-in-hand in promoting the Ambassadors' vision of community harmony?
"We looked at other churches that Dr. David Wright spoke to and, when we came here, it was instant," Johnson said about the selection process.
"We were searching for a venue different from our usual one—the Touhill Performing Arts Center—because we wanted to attract a wider, more diverse audience," Dr. Wright explained. "When Bishop Larry Jones welcomed us and became excited about the proposed concert, we knew we had found the right place."
That right place? Greater Grace Church located just off of Interstate 270 in Ferguson, roughly 20 miles from the heart of St. Louis.
"Greater Grace was very influential during the troubling times," Moroni said. "They immediately opened their doors to the community [during the unrest] so we reached out to them."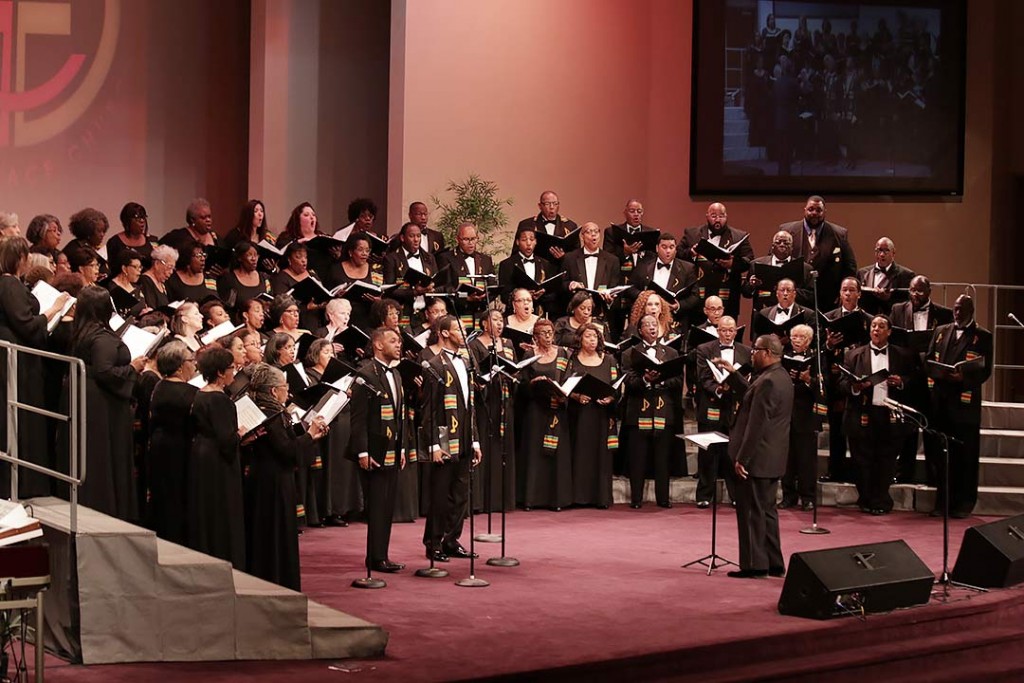 Reaching out is one thing, but how does a predominantly-white chorus drum up enough interest in a seemingly predominantly-old fashioned art form to put on a successful show in a predominantly-black area like Ferguson?
"The main challenge was advertising to attract people who are not familiar with the Ambassadors," Wright said. "We have a great marketing machine but it's oriented in the direction of our usual patrons. So the chorus visited a Sunday morning worship service at Greater Grace to sing and announce the concert."
Not a bad stroke of genius. Seek permission from a future venue and perform for its (in this case) congregation in order to promote a show. Even if said congregation is made up of people who don't look like most of the chorus.
"At the end of the day, we all have to live together," Johnson said. "To see Ferguson host this event—with Brian Owens, a son of Ferguson, a product of both choruses and a product of what their missions are—it was very important for Ambassadors to partner with IN UNISON in Ferguson for this particular concert."
Owens is a soul singer and the Artist-in-Residence and Program Manager at the St. Louis Symphony who released his latest album "Soul of Ferguson" this past February.
"I'm a longtime barbershop and a cappella enthusiast," Owens said. "I've had a relationship with the Ambassadors of Harmony and Jim Henry since high school. To have them come to my hometown of Ferguson, along with Crossroads, Fairfield Four, and the St. Louis Symphony IN UNISON Chorus, was nothing short of spectacular."
Owens, like Johnson, has spent time with both ensembles, making him a perfect unifying choice to bring both headliners together under one roof. One could say he acted as a symbolic bridge."It seems as though everybody's divided," said Jacob Evans Teasley, a bass in the Ambassadors. "Everyone's torn apart, angry and fighting. An event like this is exactly what we needed to show everybody that music truly can heal and truly bring people together. Seeing two different choruses, on the same stage, on the same risers, singing 'A Change is Gonna Come,' that's a powerful message."
Indeed. Every performer on the bill shared the stage for a finale that featured Sam Cooke's classic and impactful song.
Vision? Check. Performers? Check. Venue? Check.
Desired outcome?
"I think our goal with this event was to heal divides," Moroni said. "To bridge gaps and bring people together through the power of music. Our mission statement says that, yes, we want to be a great singing ensemble but, ultimately, we want to change the lives of those we sing for."
Music has enough of an impact to change lives in and of itself, we all know that. But when the Ambassadors of Harmony, IN UNISON, the Grammy Award-winning Fairfield Four and the 2009 BHS quartet champ Crossroads all perform at the same event—with that event being hosted by Owens—it's safe to say that impact can be accelerated.
"It's almost better than performing for a specifically barbershop or specifically not barbershop audience," Teasley said. "You get to see those expressions of the non-Barbershoppers who are hearing that first ninth chord that they've never heard before and they're looking around in amazement like 'What is that?!' The Barbershoppers sitting next to them are then able to lean over and explain 'That's an overtone.' It brings together a different type of people. Not black or white but musicians and non-musicians, amateur musicians, people who sing in the shower."
Members of the audience aren't the only people impacted by a show like this.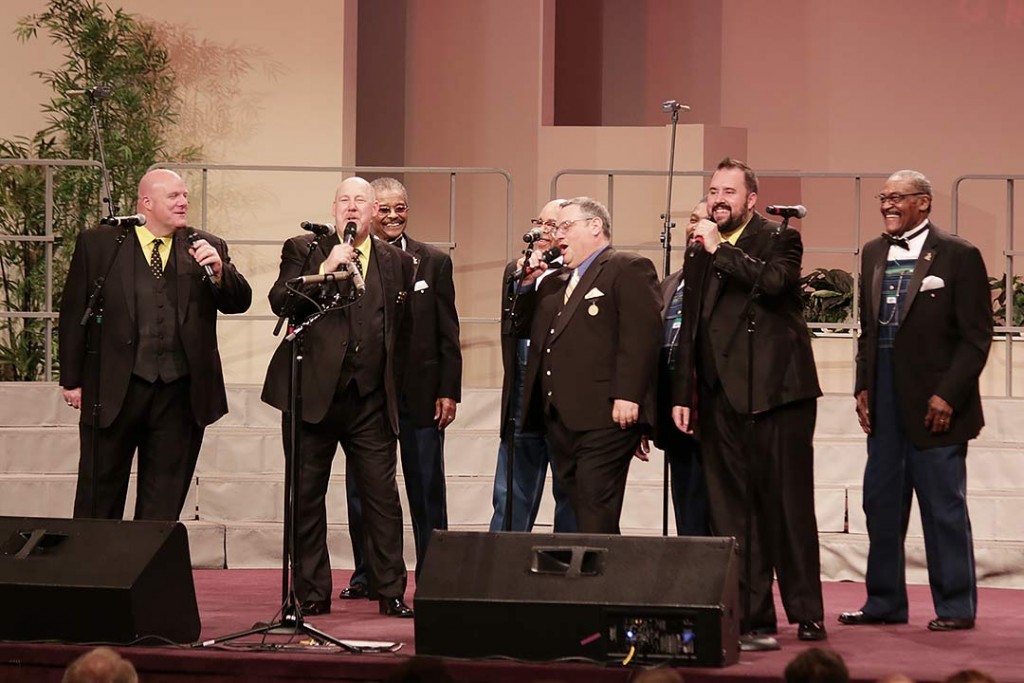 "This is one of those moments where words can't explain," Teasley said. "No word, no sentence, no phrase can truly express how much pride I have being on this stage with these amazing musicians and with these amazing people. It's something I'll never forget."
Johnson, in particular, has a unique perspective on the night as he sings in both of the events' featured groups.
"It was an amazing opportunity to have our love for barbershop music and our love for the music we do at IN UNISON because both of them have strong ministries together," Johnson said with a giant smile. "UNISON has a particular sound in particular genres of music—so does barbershop—but the message and the mission are still the same. In the moment, it was what it's supposed to be like. No division. No separation."
Side note: being a part of two choruses on the same show can't be easy.
"IN UNISON has a very rigorous rehearsal, as do the Ambassadors," Johnson chuckled. "We rehearse two and a half hours [a week] and, at Ambassadors, we rehearse three. It's difficult but, when you love it, it's not work. But yes, it was extremely difficult."
As is reaching out to others outside our comfort zone. But the Ambassadors and IN UNISON both managed to do that with this one concert. Without question, those efforts, songs and performances left a last impression on the diverse audience.
"To be a man, not just an African-American man but a man that's making a movement like this to join our communities and different audience's together through music," Johnson said. "It's my new passion. Since I retired from football, music is my new thing. It's our passion and I'm joining with hundreds of others that love music the way I love music. It's a unifying thing."
Tens of thousands of others, actually, Mr. Johnson. Because we all stand with you in an effort to bridge divides, come together and change lives through music.
In other words: everyone in harmony.

In their own words: Why the Ambassadors reached out
Our communities move to become a great place for us to live, work, and raise our children. But not very often do we have a chance for fellowship outside of our circle. The Ambassadors have been seeking ways to become more inclusive and diverse with all of its community near and far.
There was special need to bring our community together because of the negative direction race has taken us in over the years. One thing that crosses all of those boundaries is the love of music. Then Sings My Soul grew from a need for the African American community and the shared community to heal some very deep wounds of misunderstanding and misguided hate. Music was the medicine that would start this process and would be the common ground where all of God's children would come together for a night of joyous music.
The collaboration with the Greater Grace church, Ferguson community, the Ambassadors of Harmony family, The Fairfield Four, Crossroads, and the St. Louis Symphony's InUnison Chorus was a true sign of unity and was a life-changing spiritual experience. These communities that were brought together in Ferguson may have never crossed paths had it not been for this concert, which quickly turned into an evening of unity.
This gathering of diverse people was a true expression of multiple races saying we are all the same and are brothers and sisters brought together by the love of music. People stood hand in hand to embrace one another, charged with the mission to see people not color, but rather "addressing one another in psalms and hymns and spiritual songs, singing and making melody to the Lord with your heart." [Ephesians 5:19]. This exposure to diverse audiences has been a true blessing for all and has opened many doors of opportunity for continued growth.