As a part of the recent Harmony University 2017, the Barbershop Harmony Society certified five new Leadership Facilitators, whose purpose is to serve as a community of trained experts who are passionate about making a difference through thought leadership.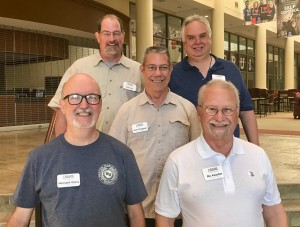 Bob Cox, John Donehower, Karl Chapple, Wendell Glass, and Ric Keaser. Class of 2017 BHS Certified Leadership Facilitators
Now totaling 20 Certified Leadership Facilitators, each facilitator is equipped to deliver specific leadership training, serve as a support conduit between all of our chapters, and further progress & promote the Healthy Chapter Initiative.
Our class of certified facilitators who were certified last year (Class of 2016) also attended Harmony University to further their learning and growth, after already serving at many district schools and working with our chapters over the past year.