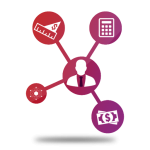 The Healthy Chapter Initiative has published a sample "Chapter Member Talent Survey" that chapters can utilize as a resource in discovering talents of their members.
Serving as a potential starting point for your nominating committee to dive into finding individuals to serve in various positions with your chapter, this also primarily serves as a tool in finding capabilities of your members to match with the needs of the chapter.
Click Here to view and/or download the sample Chapter Member Talent Survey on our "Chapter Solutions" web page of the Healthy Chapter Initiative.