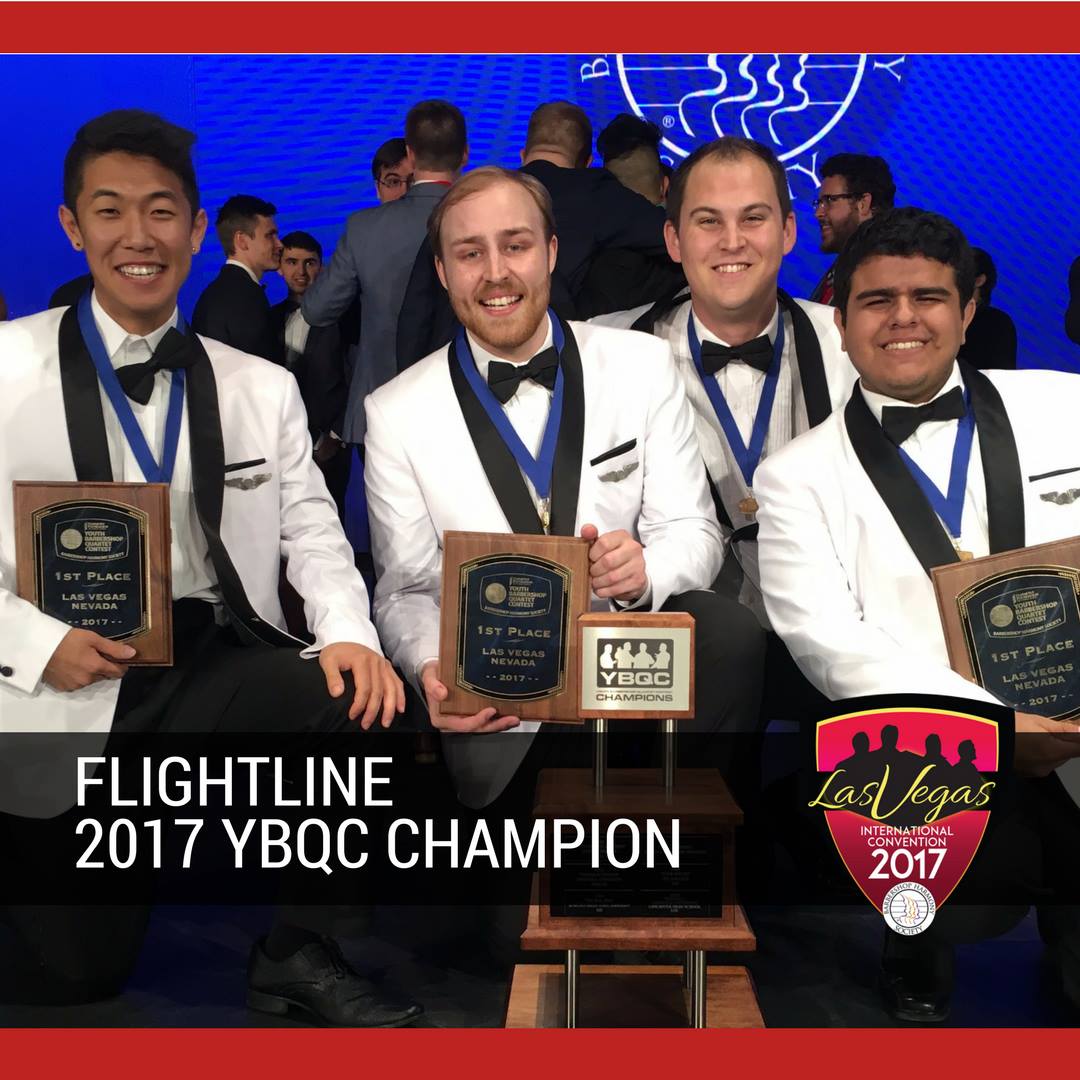 Flightline, a quartet from Anaheim, beat out 22 other young quartets from around the world to capture the 25th annual Youth Barbershop Quartet Championship Tuesday evening in Las Vegas. The contest opened the Barbershop Harmony Society's 79th annual convention.
Singing "The Nearness Of You" and "Let's Do It (Let's Fall In Love)" the quartet posted A-level scores comparable to those in the open division contest, which begins Wednesday. This was the fifth year in competition for Flightline, which was last year's silver medalist. Flightline consists of:
Oscar Sotelo, tenor

Daniel Huitt, lead

Marcus Kang, baritone

Kyle Williamson, bass
As champion, the quartet earns bragging rights, notoriety, and a springboard to the big contest, which has increasingly been dominated by past college champions, and offshore quartets such as recent champs Musical Island Boys, hailing from New Zealand.
The top five youth quartets were, in order:
Flightline

1449 points, 80.5%

Ohana Means Family

1429 points, 79.4%

Blindside

1416 points, 78.7%

Eclectones

1402 points, 77.9%

Brothers In Arms

1395 points, 77.5%
Special recognition is awarded in top finishers in Novice division(first time in the contest for at least two singers), and by age -- Juniors under age 19, and Varsity over age 19.
Highest Novice Junior
Spontaneous Chordbustin'
Highest Novice Varsity
Sound Hypothesis
Highest Experienced Junior
Polaris
The youth contest launched a week of shows, contests and education for more than 5,000 guests from around the world. For full events and schedule, see www.barbershop.org/vegas