Dear Chapter and District Leaders,
As you plan to attend your Fall District Conventions, I encourage you to schedule time to attend your House of Delegates meeting. It's your best opportunity to keep current on the ways your district leadership is supporting your chapter's efforts to be successful by your own definition.
We've long been accustomed to sending out a written House of Delegates bulleting from Harmony Hall, but this year, we thought you'd enjoy a few minutes sharing through video about where we are and where we're headed.
Our staff members are excited to share this video at most upcoming HOD meetings.
Chapter Presidents, check your mail in a few weeks for a package containing the Society Annual Report and the Everyone in Harmony Strategic Vision brochure. Combined, they describe how we operationally continue to support and expand services daily, and how we strategically will help every chapter and member find their identity in barbershop, building on current strengths and expanding into new possibilities.
Oh yeah, SING! Find some guys and sing. I understand many of us used to just attend District convention and sing into the late hours singing with our brothers from different cities... Bring someone with you who has never experienced a District convention!
Let us know what you think! E-mail your comments to ceo@barbershop.org.
Everyone in Harmony,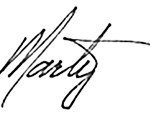 Marty Monson
Executive Director/CEO