Executive producer and TV host Mike Rowe has been named an Honorary Life Member of the Barbershop Harmony Society. A barbershop singer and fan, Mike credits his show business career in part to the influence of his high school choir director, Fred King, who also happened to be a world champion barbershop quartet singer. (Read Mike's touching memorial tribute to Fred, or listen to him tell the story.) Under Fred's encouragement, Mike became a Barbershopper, later sang in the Baltimore Opera, and eventually earned his title as "the dirtiest man on television" (Dirty Jobs, Somebody's Gotta Do It,) narrator (The Deadliest Catch) and podcaster (The Way I Heard It.)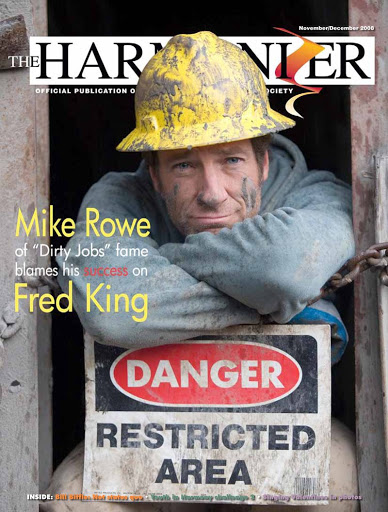 As CEO of the mikeroweWORKS Foundation, Rowe speaks regularly about the country's dysfunctional relationship with work and challenges the persistent belief that a four-year degree is the best path for the most people. His foundation works hard to debunk myths about the skilled trades and help close the skills gap.
Honorary Life Members of the Barbershop Harmony Society are performers and leaders who make an impact on the world through their passion and influence on close harmony and singing for everyone. Recent honorees have included:
Grammy Award winning gospel quartet The Fairfield Four
Deke Sharon, a cappella godfather
Lynn Abbott, researcher into African-American foundations of barbershop harmony
The Nylons, pioneer a cappella pop stars
The Oak Ridge Boys, country megastars
Bill Gaither, gospel music legend
Gordon Lightfoot, folk/pop superstar
Dick Van Dyke, Grammy/Emmy/Tony Award winning actor and singer
(See full list at http://www.barbershop.org/about-us/honorary-members/ )
The Barbershop Harmony Society is the world's largest singing Society, with more than 20,000 members across North America; affiliated men's and women's organizations in more than a dozen countries bring the total number of active singers to more than 80,000 worldwide. Through active programs in music education, publishing, performance and outreach, the Society preserves and extends the reach of a uniquely American close harmony musical art form whose roots lie in African-American improvisation and European harmony traditions. Founded in 1938, the Society now expends nearly $1 million annually in support of community and school programs that bring the fellowship, fulfillment and excitement of vocal music to a new generation of singers. The Society has called Nashville its home since 2007, and is proud to have been honored by the Nashville Business Journal as one of the Best Places Work in 2016 and 2017, and The Tennessean's best Workplaces in 2017.