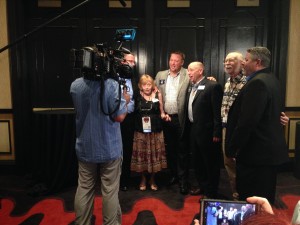 If you had fun at the Sing With The Champs event in Las Vegas, you'll love what we have planned in Orlando!
More people get to sing more songs with more quartets
Casual afterglow setting, so you can focus on relishing the moment with your heroes, not about performing on a stage
More than two hours of singing and socializing – more than 100 songs sung with champs
Yes, last year's SWTC event was so well attended and feedback so positive that we're gonna DO IT AGAIN!
People loved our afterglow format, and we estimate that over 120 songs were sung in a 2.5-hour period. Orlando's version will be bigger and better – giving you more opportunities to sing a song or tag with your favorite International Quartet Champion, take a photo in our special AIC booth, or just come to watch.
Remember, it's first come, first served! To ensure that you get to sing, sign up early – we are suggesting a $20 donation per song, but if you want to give more, that's even better!
All donations continue to support the AIC Endowment and International Next Generation Barbershop Varsity Quartet Contest.
Please join us Friday evening, July 6th from 10:00pm – 12:30am in the Orlando Ballroom inside the Hyatt Regency Orlando immediately following the chorus contest. Sign up tables open at 9:45 pm and will be at the entrance to the SWTC ballroom.
Sing With These International Champion Quartets!
2017 Main Street
2016 Forefront
2015 Instant Classic
2013 Masterpiece
2012 Ringmasters
2010 Storm Front
2009 Crossroads
2008 OC Times
2006 Vocal Spectrum
…and a couple of surprises!
See you in Orlando!