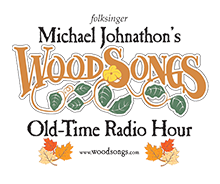 Ringmasters, our 2012 International Quartet Champion, headlines a wide-ranging cast of barbershop performers on episode 854 of WoodSongs Old-Time Radio Show, premiering this weekend on more than 500 radio stations in the U.S. and around the world on the American Forces Radio Network.
Recorded live at the historic Lyric Theater in Lexington, Kentucky, WoodSongs is a weekly celebration of Americana and roots music, and they were delighted to devote a full hour-long show to barbershop. Recorded the Monday following after our 2016 convention, we were able to assemble a nifty cast spanning all ages, including
Ringmasters
Time Bandits, 2016 seniors quartet medalists
Wildcat Harmonizers, the middle school boys chorus that charmed the Saturday Night Spectacular crowd
Vintage Mix, a mixed quartet of teenaged quadruplets
Check your local public radio station listings for show time in your area. The video edition of WoodSongs will air later in the fall, but in the meantime, here are a few peeks from the WoodSongs YouTube Channel.
Sneak preview: Time Bandits
Sneak preview: Vintage Mix
Sneak preview: Wildcat Harmonizers